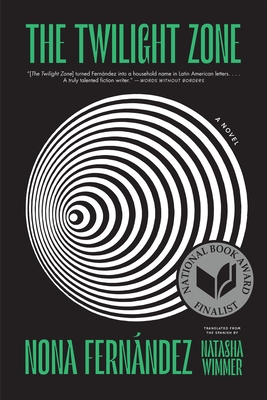 The Twilight Zone
A Novel
Paperback

* Individual store prices may vary.
Other Editions of This Title:
Compact Disc (12/7/2021)
MP3 CD (12/7/2021)
Description
* Finalist for the National Book Award for Translated Literature *

An engrossing, incantatory novel about the legacy of historical crimes by the author of Space Invaders

It is 1984 in Chile, in the middle of the Pinochet dictatorship. A member of the secret police walks into the office of a dissident magazine and finds a reporter, who records his testimony. The narrator of Nona Fernández's mesmerizing and terrifying novel The Twilight Zone is a child when she first sees this man's face on the magazine's cover with the words "I Tortured People." His complicity in the worst crimes of the regime and his commitment to speaking about them haunt the narrator into her adulthood and career as a writer and documentarian. Like a secret service agent from the future, through extraordinary feats of the imagination, Fernández follows the "man who tortured people" to places that archives can't reach, into the sinister twilight zone of history where morning routines, a game of chess, Yuri Gagarin, and the eponymous TV show of the novel's title coexist with the brutal yet commonplace machinations of the regime.

How do crimes vanish in plain sight? How does one resist a repressive regime? And who gets to shape the truths we live by and take for granted? The Twilight Zone pulls us into the dark portals of the past, reminding us that the work of the writer in the face of historical erasure is to imagine so deeply that these absences can be, for a time, spectacularly illuminated.
Praise For The Twilight Zone: A Novel…
"The Twilight Zone is wildly innovative, a major contribution to literature."—The New York Times Book Review

"Fernández has found an answer to an urgent question: making art is inadequate always, but powerful nonetheless."—Claire Messud, Harper's Magazine

"There is an incantatory quality to Nona Fernández's The Twilight Zone, a feeling of walking, as though under a spell, and then accidentally tripping into the murky unknown."—The Paris Review

"Nona Fernández has developed a reputation for composing unsettling portraits of life during Chile's brutal military dictatorship, with stories that venture beyond the stiff and incomplete histories recorded by truth and reconciliation commissions."—Vulture

"Blending fact and fiction, Fernández offers a social autopsy of the era."—BOMB Magazine

"A stunning exploration of memory and complicity. . . . Part historical exploration, part imagined scenario for what went on behind the scenes, [The Twilight Zone] is a multilayered novel. . . . Readers won't be able to put down this powerful translated work."—Aryssa Damron, Booklist

"Fernández's conversational, essayistic narration guides the reader sure-footedly through a minefield of political absurdity, shining a blacklight on doublespeak and empty political theatre."—Harvard Review of Books

"This disturbing story of a repentant man makes for a gripping psychological game of cat and mouse."—Publishers Weekly, starred review

"Gripping and rivetingly intense narrative involving Pinochet's repressive rule in 1970s–80s Chile, Fernández uses flashbacks and imagination to weave together three interrelated, nonlinear threads through which flow present, past, and future."—Library Journal, starred review

"In The Twilight Zone, Fernández shows why the emotional toll of the Pinochet dictatorship has yet to subside, why any country that denies the crimes its police forces have committed remains a country stewing with dishonesty."—Idra Novey, author of Those Who Knew

"Nona Fernández helps us glimpse the horrible reality of torture—and the even more terrifying way it becomes routine—in luminous prose of great intelligence and obsessive sincerity."—Fernanda Melchor, author of Hurricane Season
Graywolf Press, 9781644450475, 192pp.
Publication Date: March 16, 2021
About the Author
Natasha Wimmer is a translator who has worked on Roberto Bolaño's 2666, for which she was awarded the PEN Translation prize in 2009, and The Savage Detectives. She lives in New York.