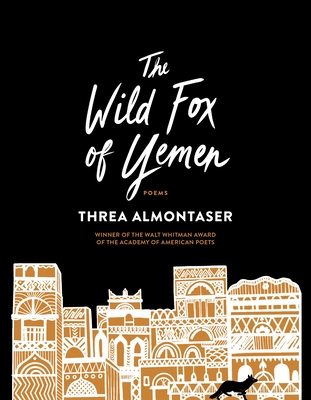 The Wild Fox of Yemen
Poems
Paperback

* Individual store prices may vary.
Description
Longlisted for the National Book Award for Poetry

Winner of the Walt Whitman Award of the Academy of American Poets, selected by Harryette Mullen

By turns aggressively reckless and fiercely protective, always guided by faith and ancestry, Threa Almontaser's incendiary debut asks how mistranslation can be a form of self-knowledge and survival. A love letter to the country and people of Yemen, a portrait of young Muslim womanhood in New York after 9/11, and an extraordinarily composed examination of what it means to carry in the body the echoes of what came before, Almontaser's polyvocal collection sneaks artifacts to and from worlds, repurposing language and adapting to the space between cultures. Half-crunk and hungry, speakers move with the force of what cannot be contained by the limits of the American imagination, and instead invest in troublemaking and trickery, navigate imperial violence across multiple accents and anthems, and apply gang signs in henna, utilizing any means necessary to form a semblance of home. In doing so, The Wild Fox of Yemen fearlessly rides the tension between carnality and tenderness in the unruly human spirit.
Praise For The Wild Fox of Yemen: Poems…
"Almontaser's daring debut both speaks to and transcends the times."—BookPage

"Threa Almontaser's The Wild Fox of Yemen is a vast and celebratory exploration of language, family, and diasporic identity."—Ploughshares

"The spirit of Whitman lives in these poems that sing and celebrate a vibrant, rebellious body with all its physical and spiritual entanglements. Formally and linguistically diverse, these bold, defiant declarations of 'reckless' embodiment acknowledge the self's nesting identities, proclaiming the individual's intricate relations to others, the one in the many and the many in the one."—Harryette Mullen, judge's statement for the Walt Whitman Award

"Really one could not say enough good things about the poems of Threa Almontaser in The Wild Fox of Yemen. . . . With counterpoints of old and new worlds, and full love and care for possibility, in brilliant rushes of language, these poems know it's so hard to be all we are, but they rise to every occasion."—Naomi Shihab Nye

"In these astonishing poems, [Threa Almontaser] razes all that would constrict her, forges new possibilities. Her language is rebellious, mischievous, curious, rich with refusals and tenderness. Her imagination startles. . . . It also eulogizes, translates, heckles. The Wild Fox of Yemen is an intoxicating debut."—Eduardo C. Corral

"It's thrilling to discover such a staggeringly self-assured debut, to feel in the unmistakable presence of The Real Thing."—Kaveh Akbar
Graywolf Press, 9781644450505, 96pp.
Publication Date: April 6, 2021
About the Author
Threa Almontaser is a Yemeni American author from New York City. Her work can be found in the Adroit Journal, Passages North, Diode Poetry Journal, The Rumpus, wildness, and elsewhere. She lives in Raleigh, North Carolina.