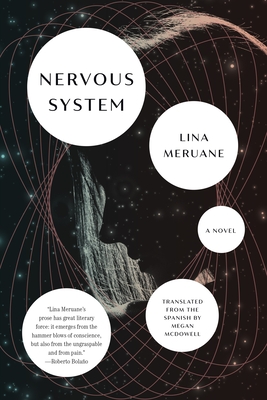 Nervous System
A Novel
Paperback

* Individual store prices may vary.
Description
An electrifying novel about illness, displacement, and what holds us together, by the author of Seeing Red


Ella is an astrophysicist struggling with her doctoral thesis in the "country of the present" but she is from the "country of the past," a place burdened in her memory by both personal and political tragedies. Her partner, El, is a forensic scientist who analyzes the bones of victims of state violence and is recovering from an explosion at a work site that almost killed him. Consumed by writer's block, Ella finds herself wishing that she would become ill, which would provide time for writing and perhaps an excuse for her lack of progress. Then she begins to experience mysterious symptoms that doctors find undiagnosable.


As Ella's anxiety grows, the past begins to exert a strong gravitational pull, and other members of her family come into focus: the widowed Father, the Stepmother, the Twins, and the Firstborn. Each of them has their own experience of illness and violence, and eventually the systems that both hold them together and atomize them are exposed.


Lina Meruane's Nervous System is an extraordinary clinical biography of a family, full of affection and resentment, dark humor and buried secrets, in which illness describes the traumas that can be visited not just upon the body, but on families and on the history of the countries—present and past—that we live in.
Praise For Nervous System: A Novel…
"'Nervous System' burns in the mind long after one has read it, not unlike the ghosts who circumnavigate our psyches, and the winding corridors of history, to hammer us on the head with the raw truth that time is not linear. The distance between the deep past and the present, Meruane shows, is much shorter than we might be inclined to think."—The New York Times Book Review

"Nervous System is a novel both fanciful and visceral, pairing the study of the cosmos with medical mysteries and wounds on earth."—Shelf Awareness

"Nervous System's dreamy lull belies the slow-motion horror of its plot. . . . I still feel blurrily half-drowned in Meruane's eerie, swirling poetics."—Sarah Manguso

"With black humor and hypnotic, singular prose, in Nervous System Lina Meruane subverts the conventions that dominate discussions about literature and illness. . . . With its porous structure, dendritic like our own nervous system, this novel helps us read our own nervous, contemporary moment."—Alia Trabucco Zerán

"Nervous System is fast, uncompromising and shimmering with intelligence."—Sarah Moss

"This is an absolutely fantastic novel. From black holes to mass graves, undiagnosable diseases and (perhaps most terrifying of all) a PhD that hasn't been written, Nervous System is frank, brave, and unsparing. The precision of Meruane's sentences will cut through you like a scalpel."—Julianne Pachico

Graywolf Press, 9781644450550, 176pp.
Publication Date: May 18, 2021
About the Author
Lina Meruane is the award-winning Chilean author of Seeing Red. She has received grants from the Guggenheim Foundation and the National Endowment for the Arts, and was a DAAD Writer in Residence in Berlin. She teaches at New York University.