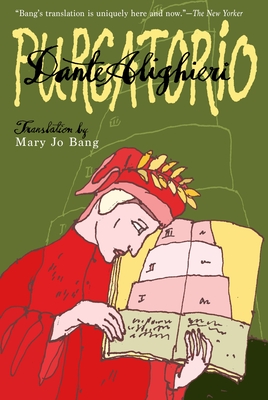 Purgatorio
Paperback

* Individual store prices may vary.
Description
The second installment in Mary Jo Bang's exhilarating, innovative translation of Dante's The Divine Comedy


Award-winning poet Mary Jo Bang's new translation of Purgatorio is the extraordinary continuation of her journey with Dante, which began with her transformative version of Inferno. In Purgatorio, still guided by the Roman poet Virgil, Dante emerges from the horrors of Hell to begin the climb up Mount Purgatory, a seven-terrace mountain with each level devoted to those atoning for one of the seven deadly sins. At the summit, we find the Terrestrial Heaven and Beatrice—who will take over for Virgil, who, as a pagan, can only take Dante so far. During the climb, we are introduced to the myriad ways in which humans destroy the social fabric through pride, envy, and vindictive anger.


In her signature lyric style, accompanied by her wise and exuberant notes, Bang has produced a stunning translation of this fourteenth-century text, rich with references that span time, languages, and cultures. The contemporary allusions echo the audacious character of the original, and slyly insist that whatever was true in Dante's era is still true. Usain Bolt, Tootsie Fruit Chews, the MGM logo, Leo the Lion, Amy Winehouse, Marvin Gaye, Bob Dylan, and Gertrude Stein are among those who make cameo appearances as Bang, with eloquence and daring, shepherds The Divine Comedy into the twenty-first century.
Praise For Purgatorio…
"In her rich and exciting translation, Bang shows how this story for all time is a story for our time." —Chicago Review of Books

"After Mary Jo Bang's brilliant time-traveling Inferno, I couldn't wait for her Purgatorio, which turns out to be every bit as meaty, luscious, erudite, straight-talking, and joyful as I had hoped. Bang has an uncanny sense of how to slip inside and between Dante's lines, guiding us along his most perilous paths."—Susan Bernofsky

"Luminous, empathetic, and inventively reverent, this thrilling sequel to Bang's Inferno maps a passage between hell and heaven for our purgatorial historical moment. . . . Above all, this ingenious and artful translation reminds us that Dante's Purgatorio, like the divine comedy in which we are all extras, is a poem about love."—Srikanth Reddy
Graywolf Press, 9781644450574, 336pp.
Publication Date: July 13, 2021
About the Author
Dante Alighieri (c.1265–1321) is the author of The Divine Comedy, a masterpiece of world literature.