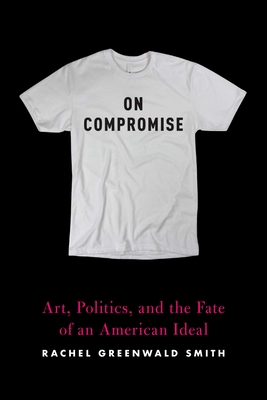 On Compromise
Art, Politics, and the Fate of an American Ideal
Paperback

* Individual store prices may vary.
Description
A strident argument about the dangers of compromise in art, politics, and everyday life


On Compromise is an argument against contemporary liberal society's tendency to view compromise as an unalloyed good—politically, ethically, and artistically. In a series of clear, convincing essays, Rachel Greenwald Smith discusses the dangers of thinking about compromise as an end rather than as a means. To illustrate her points, she recounts her stint in a band as a bass player, fighting with her bandmates about "what the song wants," and then moves outward to Bikini Kill and the Riot Grrrl movement, the Iowa Writers' Workshop, Poetry magazine, the resurgence of fascism, and other wide-ranging topics.


Smith's arguments are complex and yet have a simplicity to them, as she writes in a concise, cogent style that is eminently readable. By weaving examples drawn from literature, music, and other art forms with political theory and first-person anecdotes, she shows the problems of compromise in action. And even as Smith demonstrates the many ways that late capitalism demands individual compromise, she also holds out hope for the possibility of lasting change through collective action. Closing with a piercing discussion of the uncompromising nature of the COVID-19 pandemic and how global protests against racism and police brutality after the murder of George Floyd point to a new future, On Compromise is a necessary and vital book for our time.
Praise For On Compromise: Art, Politics, and the Fate of an American Ideal…
"Smith's ingenious, omnivorous readings find evidence of what she terms "compromise aesthetics" throughout the culture—from Barack Obama to autofiction."—The New Yorker

"Greenwald Smith takes a commendably expansive view of the idea and practice of compromise, creating a nuanced look at a thorny subject. The result is a work of criticism as thoughtful as it is relevant."—Publishers Weekly

"Intoxicating. . . . On Compromise reminds us that illiberalism is not inherently restrictive; liberalism provides cover for much degradation and injustice. . . . Forget compromise: with this book, Smith has crafted a win-win proposition."—Australian Book Review

"Ranging widely in art, literature, popular culture, philosophy, and politics, Smith mounts an impassioned critique of compromising. . . . A thoughtful, defiant polemic that should provoke heated discussions."—Kirkus Reviews

"Rachel Greenwald Smith is the cool, funny, intellectual older sister you never had. . . . This is a nuanced and thought-provoking book for our times."—Chloe Caldwell

"Rachel Greenwald Smith's On Compromise is an invigorating and blessedly defiant book, full of sharp observations and funny asides. . . . Smith is an incisive and searching critic of our culture's eagerness to sacrifice difficult goals in favor of easy compromises."—Jess Row

"On Compromise is beautifully uncompromising. Smith's prose is relentlessly perceptive, funny, and self-deprecating, without an ounce of pretension or preciousness."—Merve Emre

"Teeming with the anarchic energies of the DIY underground, yet wryly unsentimental about the complexities of complicity, Rachel Greenwald Smith's On Compromise is post-punk in all the best senses of the term."—Sara Marcus
Graywolf Press, 9781644450604, 208pp.
Publication Date: August 3, 2021
About the Author
Rachel Greenwald Smith is the author of Affect and American Literature in the Age of Neoliberalism. Her essays have appeared in American Literature, The Account, Mediations, and elsewhere. She teaches at Saint Louis University.