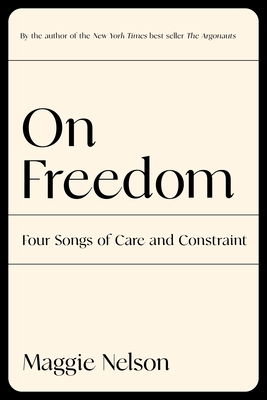 On Freedom
Four Songs of Care and Constraint
Hardcover

* Individual store prices may vary.
Other Editions of This Title:
Digital Audiobook (9/6/2021)
Digital Audiobook (9/6/2021)
September 2021 Indie Next List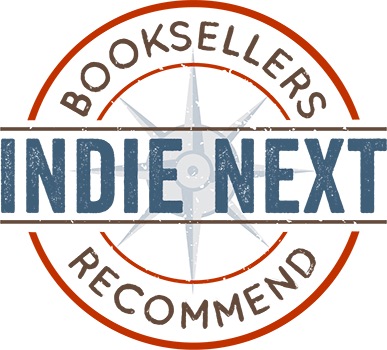 "I have long anticipated Maggie Nelson's newest work and
On Freedom
does not disappoint. Who doesn't want to know her thoughts on art, sex, drugs, and climate?"
— Dartricia Rollins, Charis Books & More, Atlanta, GA
View the List
Description
Named a Most Anticipated/Best Book of the Month by: NPR * USA Today * Time * Washington Post * Vulture * Women's Wear Daily * Bustle * LitHub * The Millions * Vogue * Nylon * Shondaland * Chicago Review of Books * The Guardian * Los Angeles Times * Kirkus * Publishers Weekly

So often deployed as a jingoistic, even menacing rallying cry, or limited by a focus on passing moments of liberation, the rhetoric of freedom both rouses and repels. Does it remain key to our autonomy, justice, and well-being, or is freedom's long star turn coming to a close? Does a continued obsession with the term enliven and emancipate, or reflect a deepening nihilism (or both)? On Freedom examines such questions by tracing the concept's complexities in four distinct realms: art, sex, drugs, and climate.


Drawing on a vast range of material, from critical theory to pop culture to the intimacies and plain exchanges of daily life, Maggie Nelson explores how we might think, experience, or talk about freedom in ways responsive to the conditions of our day. Her abiding interest lies in ongoing "practices of freedom" by which we negotiate our interrelation with—indeed, our inseparability from—others, with all the care and constraint that entails, while accepting difference and conflict as integral to our communion.

For Nelson, thinking publicly through the knots in our culture—from recent art-world debates to the turbulent legacies of sexual liberation, from the painful paradoxes of addiction to the lure of despair in the face of the climate crisis—is itself a practice of freedom, a means of forging fortitude, courage, and company. On Freedom is an invigorating, essential book for challenging times.
Praise For On Freedom: Four Songs of Care and Constraint…
"In discussion after discussion, Nelson shows the same alertness to context, intellectual modesty and the conviction that ethical goodness is never all on one side. . . ."[On Freedom] doesn't aim to provide a positive account of the meaning of freedom. But if we understand freedom, above all, through our opposition to bondage, we can learn a great deal, as her book shows, from carefully cataloging and challenging the many ways of being unfree." —Kwame Anthony Appiah, The New York Times Book Review

"Precise and atmospheric, combining fierce intellectual kick with an openness to nuance....[Nelson asks] how to live in a world with crushing oppression, alongside people with cruel and violent beliefs, without giving into despair or violence yourself."—Annalisa Quinn, NPR

"A meditative and potent examination of freedom. . . . Combining thoughtful cultural criticism with anecdotes from her personal life, Nelson delivers an intriguing work of nonfiction that seeks to challenge readers' definition of freedom and rethink how the concept operates in our lives."—TIME

"Nelson thrives in the intellectually murky spaces that politics wants to simplify. This willingness to linger amid uncertainty . . . is the engine that powers her new essay collection, On Freedom: Four Songs of Care and Constraint. . . . If On Freedom can be boiled down to an exhortation (an exercise that Nelson would surely be wary of), it would be to look, to listen—and to get comfortable with the instability you might find upon doing so. . . . [A] sense of optimism sits at the heart of On Freedom. What else is possible? it asks. . . . On Freedom is an argument for how we engage with objects of analysis—and one another—in a way that is principled but not rigid, that displays care for other people's perceptions, pains and desires, and that has respect for what we cannot know."—Ismail Muhammad, New York Times Magazine

"One of our most radical and forward-looking thinkers. . . . A tremendously energising book."—Lara Fiegel, The Guardian

"Nelson finds playfulness—and fertility—in thorny territory. She explores identity, contradiction, violence, taboo. . . . All her books are united by the same curiosity, the same willingness for intellectual and linguistic exploration."—Financial Times Magazine

"In her new collection, the acclaimed essayist and cultural critic takes up our 24/7 attention cycle, the complexities of the #MeToo movement and other topics, examining the ways our newfound 'freedoms' create their own burdens, opportunities and expectations."—Los Angeles Times

"One of the literary world's foremost cultural critics and essay writers returns with this staggering work. . . . On Freedom takes [Nelson's] work to yet another level of approachable complexity. It is, without a doubt, one of the year's best, most timely, and necessary books."—Shondaland

"As ever, Nelson's probing inquiry sits on equal footing with her effortlessly fluid prose, which moves between first-person, anecdotal stories and intense critical examination with the utmost readability. Ultimately Nelson's approach is one that seeks liberation and transcendence, whether sexual, narcotic, or purely biological—something that radiates palpably from her writing, even when she delves into some of the darkest corners of the human psyche."—Vogue.com

"A deep, thoughtful dive into our modern-day concepts of personal liberty. . . . Nelson's newest offering is a must-read."—Bustle

"Rather than define freedom in exact terms or declare what it is for, Nelson moves through knots of ideology on freedom via 'songs' of art, sex, drugs, and climate, drawing conclusions . . . that obliterate the binary of freedom vs. constraint. . . . On Freedom proves that Nelson continues to do us a great service as a critic, which is to herself digest, and sometimes wrestle with, copious amounts of literature and theory . . . and to integrate this material into a relatively short book, in an accessible, felicitous voice all Nelson's own. There are no hot takes in On Freedom. While hot takes are satisfying, they rarely finish the job. If you want to get your hands around something as vast and slippery as freedom, you are going to have to get comfortable moving through an ideological briar patch. On Freedom offers navigation tips, but Nelson's call to action is a journey that readers must take on their own."—The Boston Globe

"A necessary book. . . . Of astonishing cultural significance and among the finest writing of her career. . . . [On Freedom] is a generous guide that maps for us practical anarchies outside of and beyond our present culture's imagination while encouraging us to continue to live in conversation with them. . . . In this latest accomplishment, Maggie Nelson invites us back into a world that is miraculous, unresolved, and imperfect—one that is real; one that is ours."—The Brooklyn Rail

"A volume of literary philosophy that's no less blazing [than The Argonauts]: provocative essays about the 'felt complexities' and 'patient labor' of personal and political liberation."—Oprah Quarterly

"Nelson . . . has a unique penchant for weaving critical theory and pop culture with the personal. Her singular literary approach is on display in her latest."—WWD

"Throughout [On Freedom], [Nelson's] sensitivity and emotional presence soften the hyperintellectual, almost academic quality of her writing. She leads with feeling, exploring what she calls 'the joys and pains of our inescapable relation.'"—Vulture

"Part of what makes her writing so compelling is a comfort with uncertainty. . . The section on climate change is, to my mind, the most edifying. . . . Here Nelson wrestles with the key question of our time: how to cope with the overwhelming reality of climate change without being paralyzed into inaction. It is unanswerable, of course, but her articulation of the predicament is a salve in itself. . . . It is a delight to spend time with Nelson's erudite mind."—Times Literary Supplement

"Happiness as empathic altruism could justifiably define the affective spirit, breadth, and generosity underpinning Maggie Nelson's On Freedom. . . . On Freedom is the work of a public intellectual—a sustained, uncompromisingly even-handed meditation on the barbed cultural and political debates around personal freedom and interdependence in the spheres of art, sex, drugs, and climate. . . . Nelson has a vast capacity to embrace and 'hold' the contradictions of difficult art. This critical compassion is one of her great strengths."—4Columns

"Maggie Nelson's books crack your heart open on a marble countertop and piece it back together, but not before you've thought critically about your entire life. Her writing leaves you smarter, even if it sometimes contains truths that are hard to swallow."—NYLON

"In exploring weighty issues related to art, sex, drugs, and climate change, Nelson offers her own ideas around what real freedom might look like. Many of the hallmarks of her style are on display here . . . [and] she gets pointed as well, especially when unpacking timely topics like cancel culture and consent."—The A.V. Club

"Accessible critical theory from a verified genius."—Lit Hub

"What Nelson has penned in On Freedom is a mighty hymn to context and subtlety, another much-needed celebration of the motley, ungovernable, transgressive and possible. And approached as a symposium–a grand chorus–each of On Freedom's component essays invites (perhaps demands) participation. They welcome dissent. That's the rare and precious pleasure of Nelson's work, her generosity."—The Australian

"[Maggie Nelson] traces the limits of liberty and the call to care in this expansive and sharp-eyed study. . . . Nelson turns each thought until it is finely honed and avoids binaries and bromides. While the literary theorizing is rich, this account soars in its ability to find nuance in considering questions of enormous importance. . . . Once again, Nelson proves herself a masterful thinker and an unparalleled prose stylist."—Publishers Weekly, starred review

"A top cultural critic plucks the concept of freedom away from right-wing sloganeers and explores its operation in current artistic and political conversations. . . . The subtlety of Nelson's analysis and energy of her prose refresh the mind and spirit."—Kirkus Reviews

"Profound. . . . Nelson brings a critically nuanced appreciation of individual and societal freedom to her mapping of the minefields involved in simultaneously embracing liberty and jettisoning habits of control and paranoia that threaten liberation."—Booklist
Graywolf Press, 9781644450628, 288pp.
Publication Date: September 7, 2021
About the Author
Maggie Nelson is a poet, critic, and award-winning author of 'The Argonauts', 'Bluets', 'The Art of Cruelty', 'Jane: A Murder' and 'The Red Parts'. She lives in Los Angeles, California.