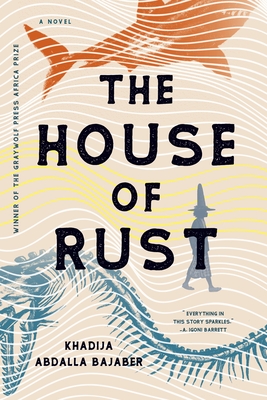 The House of Rust
A Novel
Paperback

* Individual store prices may vary.
Description
The first Graywolf Press African Fiction Prize winner, a story of a girl's fantastical sea voyage to rescue her father

The House of Rust is an enchanting novel about a Hadhrami girl in Mombasa. When her fisherman father goes missing, Aisha takes to the sea on a magical boat made of a skeleton to rescue him. She is guided by a talking scholar's cat (and soon crows, goats, and other animals all have their say, too). On this journey Aisha meets three terrifying sea monsters. After she survives a final confrontation with Baba wa Papa, the father of all sharks, she rescues her own father, and hopes that life will return to normal. But at home, things only grow stranger.

Khadija Abdalla Bajaber's debut is a magical realist coming-of-age tale told through the lens of the Swahili and diasporic Hadhrami culture in Mombasa, Kenya. Richly descriptive and written with an imaginative hand and sharp eye for unusual detail, The House of Rust is a memorable novel by a thrilling new voice.
Praise For The House of Rust: A Novel…
"Astonishing. . . . Aisha is everything you want in a heroine: cunning and headstrong, but also fallible. . . . There are stories within stories here, bursting with truth and wisdom, honoring the rich oral traditions of the Hadrami. . . . Bajaber is a born storyteller, pulling you along Aisha's epic quest to know her father's fate. . . . This book deserves to be huge."—The New York Times Book Review

"With sparse, sharply written prose and surreal imaginings, this vivid coming-of-age novel depicts the complexity of childhood, the importance of family, and the thirst for adventure."—BuzzFeed

"[A] glorious sea-infused debut. . . . This is a novel as much about a young girl's learning to trust her own courage as it is about loyalty, faith, and family. The rich descriptions of the city, its people, and the terrifying evocation of a sea full of monsters make this a riveting read."—Yvonne C. Garrett, The Brooklyn Rail

"Bajaber's writing is matter-of-fact and gem-cut. . . . This debut carries the invigorating mystery of the sea, its unpredictable leap and roil."—Vulture

"Bajaber's writing, imaginative and poetic, brings us to the wrenching heart of Aisha's coming of age."—Lit Hub

"Bajaber weaves together the mythical and the real and uses the cadences of the oral storytelling traditions of Kenya to create a remarkable coming- of-age narrative. . . . [The House of Rust] is imaginative with its personality-infused crows and goats and empathetic in its dramatization of difficult choices."—Booklist

"This is a novel of tradition, ritual, and mystical adventure. . . . [A] tale rife with creatures and immersed in the Hadrami culture of Kenya."—Kirkus Reviews

"Bajaber's depictions of Aisha's daring episodes and her feminist personality consistently shimmer. Fans of modern fairy tales will find much to appreciate."—Publishers Weekly

"A novel stuffed to bursting with marvels and fairy-tale delights. Khadija Abdalla Bajaber casts a mighty spell."—Kelly Link

"What an enchanting novel. Khadija Abdalla Bajaber has written a magical tale filled with eccentric characters who are sure to endure in the halls of literature. Here is a new writer of fierce powers, who thrills and delights."—Novuyo Rosa Tshuma

"Spellbinding freehand brushstrokes of life, love, yearning and loss in a Mombasa mediated by the mercuriality of Eastern Africa's Swahili Seas—the Indian Ocean to some. Within the intricacies of timeless worlds, scored with the imprint of ghosts, and shape-changing beings, our protagonist Aisha sets out on a magical skeleton boat, in the company of a talking cat, to rescue her beloved fisherman father who has gone missing. It is a story of the clash of destinies told in the cadences and rhythms of place that will enchant the reader. Mombasa, Kenya-based poet, Khadija Abdalla Bajaber is a radiant addition to the constellations of transcultural literature."—Yvonne Adhiambo Owuor

"Khadija Bajaber writes with a quiet, tender ferocity. Her sentences are lasers, probing the crenellations and crevices of the human heart. She's not afraid to dive into the wildest reaches of imagination, and she has the confidence and technical mastery to take us on the ride. The House of Rust is as labyrinthine, magical and multilayered as Mombasa itself. Nothing is what it seems—crows engage in complex political struggle, goats keep their counsel to subvert human supremacy, humans seek cats to navigate their epic voyages. If, as Bajaber writes, Mombasa has a hundred eyes for every mouth, this book gives every eye its moment. It's an astonishing and exhilarating debut."—Shailja Patel

"Khadija Abdalla Bajaber's command of language and story is transcendent. The House of Rust is an immersive experience in Kenyan mythology, and an honest exploration of loss and family from a uniquely talented writer."—Wayétu Moore

"The House of Rust is a gorgeous coming-of-age story, and I'm going to be obsessing about it for quite some time. . . . I wanted to lose myself forever in the dark spaces of Khadija Abdalla Bajaber's prose."—Charlie Jane Anders

Graywolf Press, 9781644450680, 272pp.
Publication Date: October 19, 2021
About the Author
Khadija Abdalla Bajaber is a Mombasarian writer of Hadhrami descent and the winner of the inaugural Graywolf Press Africa Prize. Her work has appeared in Enkare Review, Lolwe, and Down River Road, among other places. She lives in Mombasa, Kenya.
1. The coastal city of Mombasa, Kenya is an important character in The House of Rust. What did you know about Mombasa before starting the novel? If you are less familiar with it, take some time to read about the city from a few outside sources. How do these facts relate to what you read in the novel?
2. How is The House of Rust like other quest narratives you have encountered? How is it different?
3. Who are the heroes and who are the villains in this story? Are these clear and simple distinctions?
4. What roles do animals and monsters play in the novel? How does this change throughout the course of the book?
5. The House of Rust pays close attention to lineages and inheritance. What are examples of things passed on between generations? Does this transfer ever occur from younger to older generations?
6. How does food show up as an important detail in the text? What aspects of this cuisine were familiar to you, and what aspects were new? Did the novel make you want to try Swahili food?
7. Khadija Abdalla Bajaber skillfully depicts how characters' inner lives and thoughts conflict or diverge from their speech and actions, which are so often influenced by the roles they are expected to play. Give some examples of the secret lives these characters carry within. How do some of these tensions resolve and come into the light as events unfold?
8. On page 128, Zubeir tells Aisha, "You say you don't understand when you mean to say you don't know how you feel or can't accept it." Name several instances in which characters take journeys or expend great effort just to understand knowledge they already carried within themselves.
9. Is the House of Rust a real place? What do you imagine it to be like?