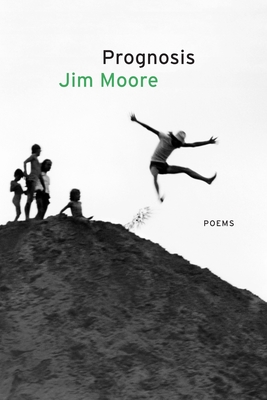 Prognosis
Poems
Paperback

* Individual store prices may vary.
Description
Jim Moore's poems "are chips of reality, obsidian flakes of the heart and mind" (Jane Hirshfield)


In his eighth collection, the celebrated poet Jim Moore looks into unrelenting darkness where moments of tenderness and awe illuminate, at times suddenly like lightning in the night, at others, more quietly, as the steady glow of streetlights in a snowstorm. These are poems of both patience and urgency, of necessary attendance and helpless exuberance in the breathing world—something rare in contemporary poetry. Written in Minneapolis amid the COVID-19 pandemic's masked and distanced loneliness, after the police murder of George Floyd, as an empire comes to an end, Prognosis turns toward the living moment as a surprising source of abundance. Here we find instances of essential human connection animated by a saving grace that pulls us back from depression and despair. Contemplating with playful wisdom what it is to brave the later years of one's life, Moore revels in the possibilities of joy and mourns the limits of our capacity to greet the unknown with resolve and wonder. The prognosis Moore foresees demands continued stillness, continued movement: "Also known as going home," he writes. "Also known as getting over yourself."
Praise For Prognosis: Poems…
"These are poems of arresting lyric reportage; whimsical, tragic, a touch fantastical."—Daisy Fried, The New York Times Book Review

"[In Prognosis,] Moore isn't telling readers to look away from contemporary realities, but rather to invest care and compassion in the present moment and the people within arm's reach. . . . In Moore's work, readers will discover that clarity and mystery are not mutually exclusive as they encounter luminous images packed with the complexity of life deeply lived."—Elizabeth Hoover, Star Tribune

"There is a stunning clarity to Jim Moore's latest poems. . . . Poised at the threshold of mortality, 'unencumbered / by thoughts of what might have been,' these poems hover between transient beauty and transfigured time; they embrace and let go of 'what was never ours to keep.'"—Arthur Sze

Graywolf Press, 9781644450703, 88pp.
Publication Date: November 2, 2021
About the Author
Jim Moore is the author of seven books of poetry, including Underground: New and Selected Poems. His poetry has appeared in The Nation, The New Yorker, The Paris Review, and elsewhere. He lives in Minneapolis, Minnesota, and Spoleto, Italy.