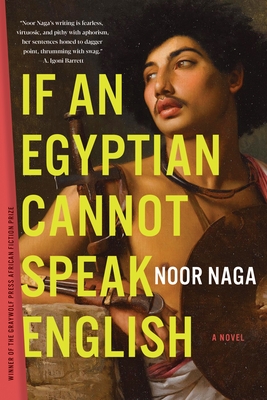 If an Egyptian Cannot Speak English
A Novel
Paperback

* Individual store prices may vary.
Description
Winner of the Graywolf Press African Fiction Prize, a lush experimental novel about love as a weapon of empire.

In the aftermath of the Arab Spring, an Egyptian American woman and a man from the village of Shobrakheit meet at a café in Cairo. He was a photographer of the revolution, but now finds himself unemployed and addicted to cocaine, living in a rooftop shack. She is a nostalgic daughter of immigrants "returning" to a country she's never been to before, teaching English and living in a light-filled flat with balconies on all sides. They fall in love and he moves in. But soon their desire—for one another, for the selves they want to become through the other—takes a violent turn that neither of them expected.

A dark romance exposing the gaps in American identity politics, especially when exported overseas, If an Egyptian Cannot Speak English is at once ravishing and wry, scathing and tender. Told in alternating perspectives, Noor Naga's experimental debut examines the ethics of fetishizing the homeland and punishing the beloved . . . and vice versa. In our globalized twenty-first-century world, what are the new faces (and races) of empire? When the revolution fails, how long can someone survive the disappointment? Who suffers and, more crucially, who gets to tell about it?
Praise For If an Egyptian Cannot Speak English: A Novel…
"Propulsive and philosophical. . . . The novel brims with sparkling prose. Naga's sentences are precise and rich with bold, complex observations. . . . [An] exhilarating debut."—Nadia Owusu, New York Times Book Review

"Extraordinary."—Christine DeZelar-Tiedman, Library Journal, starred review

"Naga impresses with her snappy prose . . . and has a gift for exploring varied perspectives. . . . This smart story is distinguished by its surprising empathy."—Publishers Weekly

"A fascinating novel about class and abuse. . . . [Noor]Naga's writing in the book's first two parts is gripping, but the final section, metafictional and darkly funny, is an absolute master class. She deals with important issues with a gimlet eye and a rare sensitivity—it would be a massive understatement to call this novel a must-read. In a word: brilliant."—Kirkus Reviews, starred review

"A masterclass in complex characters and incisive writing. . . . [If An Egyptian Cannot Speak English] does justice to the intricacy it explores. It is wholly captivating and will challenge you in ways you don't see coming."—Manal Ahmed, F(r)iction

"Sharp, switched-on, and self-interrogating, If an Egyptian Cannot Speak English masterfully continues, long after the last page is read, to provoke uncomfortable yet essential questions about what we demand from literature that represents otherness. . . . Inventive and brilliant."—Dana Hansen, Chicago Review of Books

"At once romantic, complex, and ultimately tragic."—Booklist

"In If an Egyptian Cannot Speak English, Noor Naga finds a form for diasporan consciousness: capacious enough to hold conflicting voices, inventive enough to capture the dream state of life in translation, supple enough to express varieties of heartbreak at the margins of culture. Through a love story told at a breathless pace, Naga evokes breath: the presence of living bodies, whose silence surrounds all novels, never quite caught on the page. This is a book for anyone who's ever been mesmerized by language, amazed and stricken by what it can and cannot do."—Sofia Samatar

"Noor Naga's language combines precision with extraordinary suggestiveness. Reading this book is like stepping through an open doorway and realizing that a sparkling zodiac of colorful expressions lies another small step away. One has the impulse to keep going and to stop only to wave someone else to hurry along."—Ato Quayson

"Through exquisite invention and a tightly woven form, Noor Naga brings us into the colliding spaces of cultural duality met by the perennial struggles of people attempting to reconcile with one another and themselves. With the backdrop of a Cairo in perpetual chaos and the aftermath of the Egyptian revolution, here are two young Egyptians, each from one side of the Atlantic, trying to find meaning amidst a conception of nation and belonging that seems to have all but dissipated. Beyond attempting to come to terms with one's identity, these nameless characters are in search of revelation. If An Egyptian Cannot Speak English is fixated on complexities that define how we come to understand ourselves, and our striving to grapple with desire and yearning while also being beholden to one another. Enthralling and nuanced, this is a novel by a writer whose powers are just becoming known."—Matthew Shenoda
Graywolf Press, 9781644450819, 192pp.
Publication Date: April 12, 2022