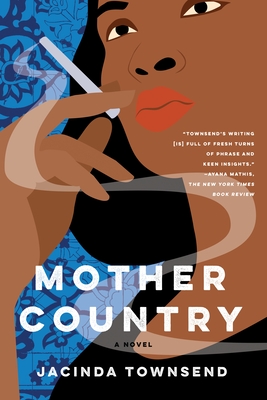 Mother Country
A Novel
Paperback

* Individual store prices may vary.
Description
A transnational feminist novel about human trafficking and motherhood from an award-winning author.

Saddled with student loans, medical debt, and the sudden news of her infertility after a major car accident, Shannon, an African American woman, follows her boyfriend to Morocco in search of relief. There, in the cobblestoned medina of Marrakech, she finds a toddler in a pink jacket whose face mirrors her own. With the help of her boyfriend and a bribed official, Shannon makes the fateful decision to adopt and raise the girl in Louisville, Kentucky. But the girl already has a mother: Souria, an undocumented Mauritanian woman who was trafficked as a teen, and who managed to escape to Morocco to build another life.

In rendering Souria's separation from her family across vast stretches of desert and Shannon's alienation from her mother under the same roof, Jacinda Townsend brilliantly stages cycles of intergenerational trauma and healing. Linked by the girl who has been a daughter to them both, these unforgettable protagonists move toward their inevitable reckoning. Mother Country is a bone-deep and unsparing portrayal of the ethical and emotional claims we make upon one another in the name of survival, in the name of love.
Praise For Mother Country: A Novel…
"An intense exploration of gender, race, and class rooted in transnational geopolitics. . . . Townsend's insights into self, motherhood, freedom, and love and her ability to illuminate multiple realities as this complex tale unfolds ensure that this is a gripping and provocative read."—Booklist

"Townsend provides many perspectives on motherhood while addressing potent issues of kidnapping, slavery, rape, abuse, and neglect, and vividly depicting their consequences. Highly recommended."—Library Journal

"Uniquely unforgettable."—Karla J. Strand, Ms. Magazine

"[An] impactful story of motherhood, resilience, and belonging. . . . In scenes both vast and intimate, Townsend brings to life the busy streets of Marrakech as well as the quiet suburbs of Kentucky. This moving story about love and loss will not easily be forgotten."—Publishers Weekly

"[Mother Country's] great strengths are the gorgeous prose and deep empathy that Townsend extends to both Souria and Shannon. Her multifaceted portrait of Morocco and insights into American privilege, transnational colorism, and transgenerational trauma elevate what could have been merely a tragic crime story."—Kirkus Reviews

"In Mother Country, Jacinda Townsend delivers on the promise of her debut novel with a tale that braids the trauma and dysfunctions at the root of American entitlement with the daily horror of survival on the other side of the world. The torment of the child-mother, Souria, and her absolute devotion to her daughter, two-year-old Yu, is elegantly spun with descriptions as poetic as they are brutal. Souria's fortitude in the face of tragic deprivation condemns not only the visiting American woman who simply helps herself to Yu as though she were another bite of sweet mkharka at the buffet of a fancy hotel, but the country and people who raised her. In the end, Townsend seems to say, our pain, no matter how great, cannot be mitigated by inflicting damage on others—it must belong entirely to us."—Ru Freeman
Graywolf Press, 9781644450871, 320pp.
Publication Date: May 3, 2022
About the Author
Jacinda Townsend is the author of Saint Monkey, which won the Janet Heidinger Kafka Prize and the James Fenimore Cooper Prize. She is a graduate of the Iowa Writers' Workshop and teaches in the MFA program at the University of Michigan in Ann Arbor.