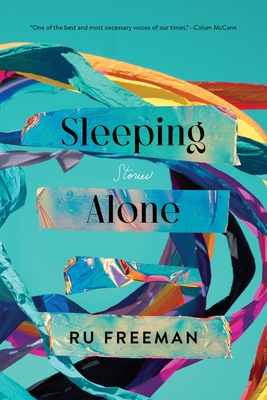 Sleeping Alone
Stories
Paperback

* Individual store prices may vary.
Description
In this collection of rich and textured stories about crossing borders, both real and imagined, Sleeping Alone asks one of the fundamental questions of our times: What is the toll of feeling foreign in one's land, to others, or even to oneself? A cast of misfits, young and old, single and coupled, even entire family units, confront startling changes wrought by difficult circumstances or harrowing choices.

These stories span the world, moving from Maine to Sri Lanka, from Dublin to Philadelphia, paying exquisite attention to the dance between the intimate details of our lives and our public selves.

Whether Ru Freeman, author of the novel On Sal Mal Lane, is capturing secrets kept by siblings in Sri Lanka, or the life of itinerants in New York City, she renders the nuances of her characters' lives with real sensitivity, and imbues them with surprising dignity and grace.
Praise For Sleeping Alone: Stories…
"Freeman is not afraid to linger in disquiet. The eleven individual stories tell of many kinds of heartache, more than it would seem a slim volume could hold. . . [She] makes visible lives that are often hidden in plain sight." —Carol Iaciofano Aucoin, WBUR Arts & Culture

"Searing. . . . While Freeman's prose has many virtues—she's masterful on a line level and utilizes effective narrative techniques in each story—it's her ability to highlight how lonely it is to not truly be seen that makes Sleeping Alone so remarkable."—Rachel León, Chicago Review of Books

"Delicate and vital. . . . Freeman's charisma shines on each page of these beautiful stories. This is a treasure."—Publishers Weekly, starred review

"[Sleeping Alone] methodically strips away the intricate layers of privilege, revealing the sometimes-sinister truth that no one is ever truly safe, regardless of societal status. . . . Each story is tightly structured and aimed to pierce through the reader's own sense of stability. . . . Deceptively disturbing, deeply felt, and original."—Kirkus Reviews

"Set around the world and grappling with themes of race and class, Freeman's stories work precisely because they are full of the drama and the ordinariness of life. Here is proof that there is tragedy and beauty in the everyday; you just have to know where to look."—Poornima Apte, Booklist, starred review

"Sleeping Alone presents us with a deftly rendered cross-section of contemporary society."—Megan V. Luebberman, Zyzzyva

"A collection of marvels. Every story of Sleeping Alone feels vivid and intimate, boldly mining the complicated intersections between the global and the local in exquisite prose. Freeman is a writer of remarkable talent and ferocity, and it's breathtaking to see her working at the height of her powers."—Tania James, author of The Tusk That Did the Damage

These deftly controlled stories almost prickle the skin with their secrets, with the shame and longing and injustice, both personal and structural, that is revealed. But they also contain an exhilarating beauty, what feels like the charged breath of life. Sleeping Alone is a collection that left me awestruck and also immediately wanting to go back and reread it for the depths I knew I had barely begun to find within its pages. Ru Freeman is an author of rare genius."—Mary South, author of You Will Never Be Forgotten

"Stand in the doorway of these beautiful stories and admire for a moment the architecture of how they have invited you in. Then step fully inside into a textured world of borders breached, lands left behind, new territories discovered, families remembered, and vistas uncovered. These stories cross and criss-cross the world, making it tiny and epic at the same time. Dublin, Philadelphia, Maine, Sri Lanka, New York, they are all here, and we, as readers, are all there. Ru Freeman captures the moment when the thorn enters the skin, and then she leads us forward towards healing. A great collection from one of the best and most necessary voices of our times."—Colum McCann, author of Apeirogon
Graywolf Press, 9781644450888, 240pp.
Publication Date: June 7, 2022
About the Author
Ru Freeman is the author of A Disobedient Girl. She is an activist and journalist whose work appears internationally. She calls both Sri Lanka and America home.