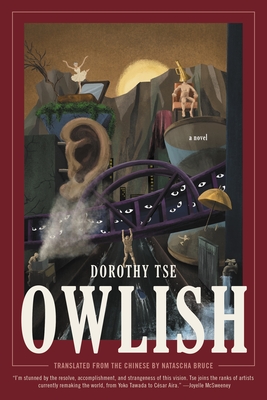 Owlish
A Novel
Paperback

* Individual store prices may vary.
Other Editions of This Title:
Paperback (2/23/2023)
Description
A professor falls in love with a mechanical ballerina in a mordant and uncanny fable of contemporary Hong Kong

With your face covered, sneaking into a city you thought you knew, are you still yourself? Or have you crossed to another world, where the streets are unpredictable and the people strangers, where you might at any moment run into some unknown dream version of yourself?

In a city called Nevers, there lives a professor of literature called Q. He has a dull marriage and a lackluster career, but also a scrumptious collection of antique dolls locked away in his cupboard. And soon Q lands his crowning acquisition: a music box ballerina named Aliss who has tantalizingly sprung to life. Guided by his mysterious friend Owlish and inspired by an inexplicably familiar painting, Q embarks on an all-consuming love affair with Aliss, oblivious to the protests spreading across the university that have left his classrooms all but empty.

The mountainous city of Nevers is itself a mercurial character with concrete flesh, glimmering new construction, and "colonial flair." Having fled there as a child refugee, Q thought he knew the faces of the city and its people, but Nevers is alive with secrets and shape-shifting geographies. The winner of a 2021 PEN/Heim Translation Fund grant, Owlish is a fantastically eerie debut novel that is also a bold exploration of life under oppressive regimes.
Praise For Owlish: A Novel…
"A magical and potent tale for these tyrannical times."—NoViolet Bulawayo, author of Glory

"Dorothy Tse is a magnificent historian of unreal places. . . . Her parallel worlds and paradoxes brilliantly illuminate our own reality, with all its fictions masquerading as facts (and vice versa). Boundlessly creative, richly philosophical—I loved this book."—Joanna Kavenna, author of Zed

"Owlish is so delightfully creepy, wonderful and strange—I loved it."—Camilla Grudova, author of Children of Paradise

"A bold, brilliantly absorbing read. This clever, mercurial portrait of an alternate Hong Kong lingers long after the last page." —Irenosen Okojie, author of Nudibranch

"Beguilingly eerie, richly textured, the pages of Owlish are drenched in strange beauty and menace. Like all the best fairy tales, it reveals the dark truths that we would rather not look at directly, and does so with a surreal and singular clarity."—Sophie Mackintosh, author of Cursed Bread

"Tse's style in Owlish, with its magical elements, suggests a more overtly political Italo Calvino or Salman Rushdie with a lighter touch. . . . The story is engrossing and the prose, translated by the always satisfying Natascha Bruce, a delight."—Jessa Crispin, The Telegraph (UK)

"A fantastic if discomforting work of art. . . . This is no ordinary tale of male angst and frustrated desire. . . . Tse crafts a wondrous hinterland in her writing, imagining the waiting worlds we might dream ourselves into—if we try."—Annie Hayter, Big Issue (UK)

"Extraordinarily impressive. The word that comes to mind for both Dorothy Tse and Natascha Bruce is 'virtuosity.' . . . With its sureness of touch, its steely wit and its humor, Owlish is a most welcome addition to the bookshelves of translated novels. I hope it gets the recognition it certainly deserves."—Nicky Harman, Asian Books Blog

Graywolf Press, 9781644452356, 224pp.
Publication Date: June 6, 2023
About the Author
Dorothy Tse is a Hong Kong writer who has received the Hong Kong Book Prize and Taiwan's Unitas New Fiction Writers' Award. She is the author of Snow and Shadow (translated by Nicky Harman) and cofounder of the literary journal Fleurs des Lettres.

Natascha Bruce translates fiction from Chinese. Her work includes novels and story collections by Yeng Pway Ngon, Patigül, Ho Sok Fong, and Can Xue. She lives in Amsterdam.