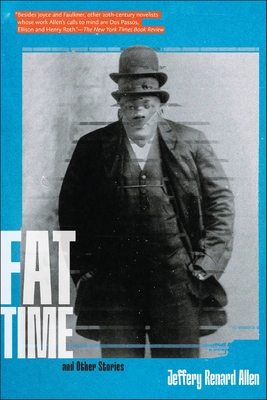 Fat Time and Other Stories
Paperback

* Individual store prices may vary.
Description
A ferocious, innovative story collection about Black lives in the past, present, and future


In Fat Time and Other Stories, Jimi Hendrix, Francis Bacon, the boxer Jack Johnson, Miles Davis, and a space-age Muhammad Ali find themselves in the otherworldly hands of Jeffery Renard Allen, reimagined and transformed to bring us news of America in the twentieth and twenty-first centuries. Along with them are characters of Allen's invention: two teenagers in an unnamed big city who stumble through a down-low relationship; an African preachervisits a Christian religious retreat to speak on the evils of fornication in an Italian villa importedto America by Abraham Lincoln; and an albino revolutionary who struggles with leading his people into conflict.

The two strands in this brilliant story collection—speculative history and tender, painful depictions of Black life in urban America—are joined by African notions of circular time in which past, present, and future exist all at once. Here the natural and supernatural, the sacred and the profane, the real and fantastical, destruction and creation are held in delicate and tense balance. Allen's work has been said to extend the tradition of Ralph Ellison, William Faulkner, Henry Roth, and Ishmael Reed, but he is blazing his own path through American literature. Fat Time and Other Stories brilliantly shows the range and depth of his imagination.
Praise For Fat Time and Other Stories…
"Reading Jeffery Renard Allen's Fat Time and Other Stories feels like free-falling, tumbling, spiraling headlong into stark new worlds and fever dreams. Allen's characters––restless and rebellious, famous and infamous––draw you in with the force of their longings, fears, and blues. These stories are eclectic, electric and endlessly imaginative."—Deesha Philyaw

"Fat Time and Other Stories, Jeffery Renard Allen's impressive new collection, takes the reader on a series of journeys spanning time, place, and souls. Whether imagining a band of albinos in revolt or a life-triptych featuring Jimi Hendrix and Francis Bacon, life under a mysterious (though now quite recognizable) quarantine or passages in the lives of greats Miles Davis and Muhammad Ali, Allen's array of storytelling gifts and his skill at bringing characters to life never fail to amaze. Luxuriate in these masterful sentences, lose yourself in these Black stories, 'the shape of dreams . . . the shape of the blues . . . the shape of listening.'"—John Keene

"In Fat Time, Jeffery Renard Allen's masterful depiction of the Black diaspora and the interior, shadowed lives of African Americans is on full display. From the fantastical and surreal to the darkly comic, each story is like an act of introspection that reveals the hidden spaces within unseen lives—where the unspoken is as loud as the biting utterances of characters pondering 'the word for choices we cannot forgive.' Through Allen's penetrating gaze, we indeed see 'the world is for everything borned' in this amazing brew of violence, rage, whimsy, and heartbreaking humor."—Morowa Yejidé

"Jeffery Renard Allen's writing in Fat Time and Other Stories is intense, subtle, and astute, rendered with folk wisdom and magical realism. Although his characters face defeat and folly, they not only endure, they often prevail. Allen has never forgotten the importance of 'the human heart in conflict with itself' (Faulkner). His themes of destruction and renewal, love and desire, despair and hardship, estrangement and war, and the weight of time itself, are always universal. This is a powerful collection."—Clarence Major

Graywolf Press, 9781644452394, 288pp.
Publication Date: June 20, 2023
About the Author
JEFFERY RENARD ALLEN is the author of the novel Rails Under My Back and two collections of poetry. Allen was born and raised in Chicago. He teaches creative writing at Queens College/CUNY, and his awards include a Whiting Award.