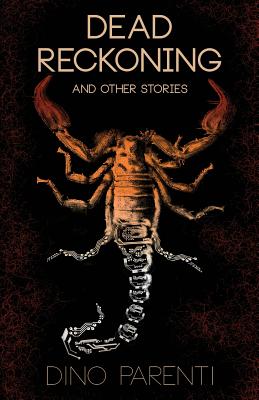 Dead Reckoning (Paperback)
and Other Stories
Crystal Lake Publishing, 9781644679708, 322pp.
Publication Date: October 4, 2018
* Individual store prices may vary.
Description
An emotional sampler of life on Earth as it once was.

In this collection of sixteen dark, literary tales, disparate characters and their descendants twine and interconnect throughout America from the rural seventies to the post-apocalyptic, stitching together a nefarious mosaic of experiences.

Whether delving into the exploits of a murderous police officer and a lapsing priest engaged in a battle of wills in the sun-blasted dunes of Death Valley, or an anthropologist couple sorting their infertility issues after inadvertently unleashing an Ice Age killer plague, or a mysterious ferry in the Pacific Northwest holding the darkest secrets of a private eye's final case, or a man so obsessed with touching the infinite that he eagerly volunteers for a one-way mission to preserve the final remnants of mankind, Dead Reckoning and Other Stories ultimately yields a kind of found almanac for human posterity.

Proudly represented by Crystal Lake Publishing--Tales from the Darkest Depths.

Interview with the author:
What makes this collection so special?
Dino: Dead Reckoning and other stories attempts to create a mosaic of the American experience by presenting stories that touch on a variety of genres like horror, crime, science fiction, mystery, and rural noir, while also grazing elements of the bizarre and the western. Each dark tale is treated almost like an artifact, grouped by time periods and thematic elements from vengeance, to obsession, to the mysterious, to body horror, to the post-apocalyptic.

Tell us more about your title story.
Dino: What if a cop, driven to murderous vigilantism after seeing the legal system fail repeatedly, confesses to a suicidal priest mired in a crisis of faith and nothing left to lose? Dead Reckoning began as a simple image from a dream of a priest on horseback pulling a cop by rope over a desert dune, but in its writing, it became a test of wills--an exploration of law and faith, pushed to their violent, self-destructive extremes.

Why should readers give your work a try?
Dino: The collection attempts to collate an experience--a kind of found almanac for a future generation to find. Crossovers in character and events are sprinkled throughout, creating a shared-world experience in the vein of Stephen King's overall works. Fans of varying genres will find something to appreciate, especially if they're into authors like Stephen Graham Jones, Joyce Carol Oates, and Brian Evenson--writers who explore multiple genre tones from science fiction, horror, crime, and all their variants.