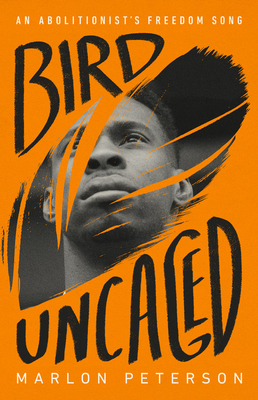 Bird Uncaged
An Abolitionist's Freedom Song
Hardcover

* Individual store prices may vary.
Description
From a leading advocate for prison abolition and transformative justice, a moving memoir about coming of age in Brooklyn and surviving incarceration -- and an urgent call to end all the cages that constrain us.
Marlon Peterson grew up in 1980s and 90s Crown Heights, raised by Trinidadian immigrants. Amid the routine violence and crack epidemic that would come to shape the perception of his neighborhood, Peterson spent his childhood preaching the good word alongside his father, a devout Jehovah's Witness. The specter of the American Dream loomed large, and with his achievement of 6th grade valedictorian, it seemed within reach. But in the aftermath of physical and sexual trauma, Peterson made a series of choices that led to his first arrest, getting shot, and his participation in a robbery that resulted in two murders. At 19, Peterson was charged and later convicted; he served ten years in prison. During his incarceration, Peterson immersed himself in anti-violence activism, education, and prison abolition. He continues this work today.
In
Bird Uncaged
, Peterson recounts his coming of age story, challenging the typical "redemption" narrative and our assumptions about who deserves justice. With vulnerability and insight, he exposes the hollowness of the American Dream; the daily violence and trauma of poverty, policing, and enforced masculinity; and the brutality of incarceration. And he reveals the many cages -- physical and metaphorical -- created and maintained by American society.
Bird Uncaged
is a 21st century abolitionist memoir, and a powerful debut that demands a shift from punishment to healing, an end to mass incarceration, and a new vision of justice.
Bold Type Books, 9781645036517, 256pp.
Publication Date: April 13, 2021
About the Author
Marlon Peterson is the principal of The Precedential Group, a social justice consulting firm. He is host of the Decarcerated Podcast, a Senior Atlantic Fellow for Racial Equity, a member of the Aspen Global Leadership Network, and a 2015 recipient of the Soros Justice Fellowship. Ebony Magazine has named him one of America's 100 most influential and inspiring leaders in the Black community. His TED Talk, "Am I not human? a call for criminal justice reform," has over 1.2 million views. He contributed to Kiese Laymon's How to Slowly Kill Yourself and Others in America and Akiba Solomon and Kenrya Rankin's How We Fight White Supremacy. His writing has appeared in Ebony, The Nation, USA Today, Colorlines, and more. A graduate of New York University, he lives in Brooklyn and plays the steelpan during the summer.