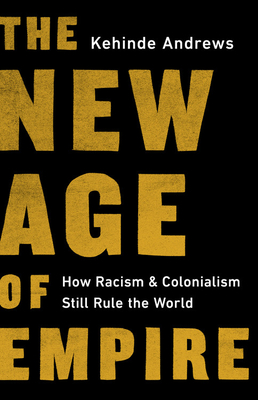 The New Age of Empire
How Racism and Colonialism Still Rule the World
Hardcover

* Individual store prices may vary.
Description
A damning exploration of the many ways in which the effects and logic of anti-black colonialism continue to inform our modern world.
Colonialism and imperialism are often thought to be distant memories, whether they're glorified in Britain's collective nostalgia or taught as a sin of the past in history classes. This idea is bolstered by the emergence of India, China, Argentina and other non-western nations as leading world powers. Multiculturalism, immigration and globalization have led traditionalists to fear that the west is in decline and that white people are rapidly being left behind; progressives and reactionaries alike espouse the belief that we live in a post-racial society.
But imperialism, as Kehinde Andrews argues, is alive and well. It's just taken a new form: one in which the U.S. and not Europe is at the center of Western dominion, and imperial power looks more like racial capitalism than the expansion of colonial holdings. The International Monetary Fund, World Bank, World Trade Organization and even the United Nations are only some of these modern mechanisms of Western imperialism. Yet these imperialist logics and tactics are not limited to just the west or to white people, as in the neocolonial relationship between China and Africa. Diving deep into the concepts of racial capitalism and racial patriarchy, Andrews adds nuance and context to these often over-simplified narratives, challenging the right and the left in equal measure.
Andrews takes the reader from genocide to slavery to colonialism, deftly explaining the histories of these phenomena, how their justifications are linked, and how they continue to shape our world to this day. The New Age of Empire is a damning indictment of white-centered ideologies from Marxism to neoliberalism, and a reminder that our histories are never really over.
Praise For The New Age of Empire: How Racism and Colonialism Still Rule the World…
"An uncompromising account of the roots of racism today."—Kimberlé Crenshaw

"This book is a provocation. As Kehinde Andrews argues, we are still living this imperial nightmare, still reaping the consequences of contemporary racialized violence and exploitation. The lesson: no freedom under racism, no future under capitalism, no justice without decolonization."—Robin D. G. Kelley, author of Freedom Dreams: The Black Radical Imagination

"This book is a radical, necessary indictment of the racist structures that produced the current anti-Black world order. Historically rigorous and deeply researched. . . . Andrews's clear-eyed analysis insists upon the revolutionary acts of freedom we will need to break out of these systems of violence."—Ibram X. Kendi, National Book Award–winning author of Stamped from the Beginning and How to Be an Antiracist

"Kehinde is a leader and a teacher who puts the Black Lives Matter movement into its historical and global context, and explains persuasively how it could shape our future. If you want to go beyond gestures and slogans and to the truth, this is the book to get you there."—Russell Brand

"Professor Andrews takes the reader on a journey, and it isn't a comfortable one. Pick up this book and read it carefully. Once that is done, readers will be surely challenged, both in thinking and action."—Dawn Butler, Labour MP

"Kehinde is a crucial voice, walking in a proud tradition of Black radical criticism and action."—Akala

"Skillfully interweaving economics, politics, and history to debunk popular narratives of social progress, this searing takedown hits home."—Publishers Weekly

"Provide[s] readers with a solid grounding in the 500-year history of racial capitalism – the enduring significance of the genocide of Native Americans, the transatlantic slave trade and European colonialism – as he works, convincingly, to reveal the 'colonial logic and neocolonialism' still at play in the workings of contemporary global institutions such as the UN, the IMF, the World Bank, the WTO."
 —The Guardian
Bold Type Books, 9781645036920, 288pp.
Publication Date: March 2, 2021
About the Author
Kehinde Andrews is Professor of Black Studies at Birmingham City University, where he founded, and is currently director of, the Centre for Critical Social Research. At BCU he was also one of the team who founded the first undergraduate degree in Black Studies. Andrews regularly writes for the Guardian, the Independent, Ebony Magazine, and CNN. He has been featured on Good Morning Britain, Newsnight, Channel 4 News, BBC News Channel, and Under the Skin with Russell Brand. Andrews's first book, Resisting Racism: Race, Inequality and the Black Supplementary School Movement, was published in 2013 and he co-edited the first collection of British Black Studies, Blackness in Britain, in 2016. His latest book was Back to Black: Retelling Black Radicalism for the 21st Century published by Zed books in 2018. He lives in Birmingham.