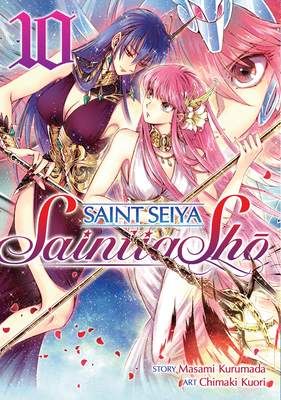 Saint Seiya (Paperback)
Saintia Sho Vol. 10
Seven Seas, 9781645054580, 180pp.
Publication Date: May 5, 2020
Other Editions of This Title:
Paperback (8/4/2020)
Paperback (3/17/2020)
Paperback (11/12/2019)
Paperback (5/21/2019)
Paperback (8/6/2019)
Paperback (2/19/2019)
Paperback (11/27/2018)
Paperback (5/22/2018)
Paperback (8/21/2018)
Paperback (11/17/2020)
* Individual store prices may vary.
Description
GUIDANCE FROM BEYOND
As meteors rain down on the Earth, the Saintia must travel to another dimension to carry out a risky rescue mission. Guiding them is Olivia, the spirit of a Saintia who died thirteen years ago. When Shoko learns that she and Olivia have a special connection, it brings to light long buried family secrets!
About the Author
Chimaki Kuori is a Japanese manga creator best known for contributions to Persona 4 and Gundam Seed anthologies. Saint Seiya: Saintia Sho is Chimaki Kuori's most recent series.
Praise For Saint Seiya: Saintia Sho Vol. 10…
"As a comforting reminder or a bid to tap into 1980s nostalgia, it's perfect: the fights are brisk, hot-blooded, flashy affairs full of posturing, and the melodrama is loud and teary, exactly as Kurumada would have drawn it." --Otaku USA Magazine

"Saint Seiya: Saintia Sho has the appearance of a shojo series, but it's got the spark and spirit of a shonen. Drawn beautifully on every page, the characters and the worlds they're surrounded in feel very reminiscent of Chiho Saito's Revolutionary Girl Utena." --Boston Bastard Brigade

"Overall I really enjoyed this opening bravado to Saintia Sho. Shoko is the kind of female lead I like to follow in an action series: she adapts quickly to new situations, she already has some martial arts prowess so she isn't completely helpless when attacked by supernatural forces, and she's not a hot-headed idiot who gets herself into more trouble than she gets herself out of." --The OASG
"Saint Seiya: Saintia Sho Volume 1 is a great entry into the Saint Seiya franchise for modern anime fans, as well as a great start to a newer magical girl series. With a suggested "Teen" rating, the volume isn't too violent or graphic, on par with series like Sailor Moon. I look forward to seeing where the series goes, and with an anime adaptation slated for 2019, now seems like a great time to hop in." --A-to-J Connections