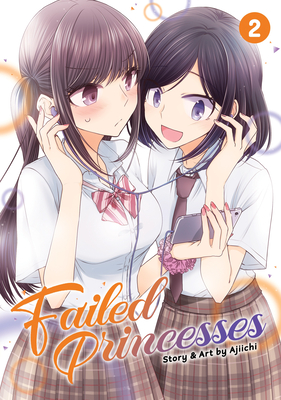 Failed Princesses Vol. 2 (Paperback)
Seven Seas, 9781645057369, 180pp.
Publication Date: September 8, 2020
* Individual store prices may vary.
Description
TWO GIRLS…ONE PLAIN…THE OTHER STYLISH AND POPULAR!

After her makeover, Kurokawa continues her journey to cuteness! Just as her resistance to dressing up begins to fade, Fujishiro invites her to the pool—and tells her something she never expected to hear!
About the Author
Ajiichi is a manga creator best known for Failed Princesses and other yuri manga.
Praise For Failed Princesses Vol. 2…
"Certainly Nanaki's use of the phrase "repay you with my body" (meaning her make up and shopping skills) is loaded, with Kanade giving it a sexual connotation in her mind, but right now that's less important than the validation the girls bring to each other: that they are worthwhile people no matter what anyone else says. That's a story worth following, no matter what your memories of high school are." --Rebecca Silverman, Anime News Network

"[Failed Princesses] is highly reminiscent of Milk Morinaga's schoolgirl Yuri works with enough original flavor to feel refreshing. If you enjoy titles like Girl Friends and Secret of the Princess, I highly recommend this manga." --The Holy Mother of Yuri

"Fans of school drama Yuri and Morinaga Milk will be rewarded by these characters who exceed their stereotypical origins." --Erica Friedman, Okazu