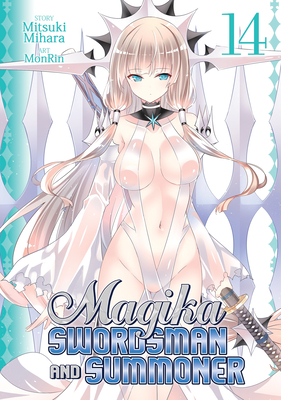 Magika Swordsman and Summoner Vol. 14 (Paperback)
Seven Seas, 9781645057826, 180pp.
Publication Date: April 20, 2021
Other Editions of This Title:
Paperback (8/25/2020)
Paperback (1/28/2020)
Paperback (6/11/2019)
Paperback (12/31/2018)
Paperback (7/18/2017)
Paperback (6/26/2018)
Paperback (6/28/2016)
Paperback (12/5/2017)
* Individual store prices may vary.
Description
A New York Times manga bestseller!

Based upon a popular light novel series in Japan, Magika Swordsman and Summoner is an ongoing fantasy manga series about a young magical summoner and his trials and tribulations in summoner school.

Parallel to our dimension is a world filled with magic, home to a host of mystical beings and fantastical powers. Humanity has learned to harness these forces and bring forth that world's entities to do their bidding through the power of "summoners." Our world has never been the same.

Fifteen years later, Kazuki Hayashizaki is chosen as the first male summoner. His attendance at an all-female summoner school, however, is met with opposition--especially from his own sister, who is the school's most skilled swordsman. Kazuki's sister has conflicting feelings about her little brother and can't stand his new role. Kazuki struggles against the machinations of his sister and the other students. Can he overcome adversity and learn to become a first rate summoner?
About the Author
Mitsuki Mihara is a Japanese author best known for Magika Swordsman and Summoner.

MonRin is a Japanese artist best known for Magika Swordsman and Summoner.