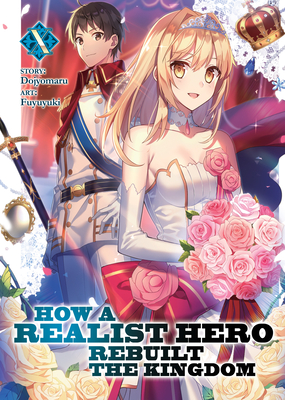 How a Realist Hero Rebuilt the Kingdom (Light Novel) Vol. 10
Paperback

* Individual store prices may vary.
Other Editions of This Title:
Paperback (2/2/2021)
Paperback (6/1/2021)
Paperback (4/6/2021)
Paperback (12/22/2020)
Paperback (11/10/2020)
Paperback (4/14/2020)
Paperback (9/11/2018)
Paperback (9/22/2020)
Paperback (1/22/2019)
Paperback (5/28/2019)
Paperback (9/17/2019)
Paperback (12/10/2019)
Paperback (9/7/2021)
Description
FOUR WEDDINGS AND A CORONATION

The ceremony that will turn Souma from provisional king to true monarch is rapidly approaching, and because Souma is to wed his fiancées on the same day, the capital is overflowing with excitement. Not overflowing enough for Souma, though, who uses his own marriage as an excuse to push his retainers to confess to their beloveds and tie the knot, too. Admirable as the king's motives are, can the kingdom really handle all this romance, all at once?!
Seven Seas, 9781645059516, 250pp.
Publication Date: February 16, 2021
About the Author
Dojyomaru is a Japanese author best known for How a Realist Hero Rebuilt the Kingdom.

Fuyuyuki is a Japanese artist best known for the illustrations in How a Realist Hero Rebuilt the Kingdom.