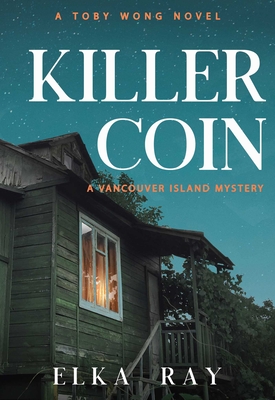 Killer Coin
Paperback

* Individual store prices may vary.
Description
The author has appeared on Talk Vietnam, (November 12, 2017, VTV 4 (Vietnam's national broadcaster) in a 40-minute documentary & interview about her writing, art & life in Vietnam.
Also appeared in another mini-documentary Vietnam in my Heart, (2013, VTV4, 14) about her other work Hanoi Jane & Vietnam Life
Elka Ray has a combined social following of about 3,000 fans and is #15 on the Goodreads list of most followed people in Vietnam.
A wealthy socialite goes missing… a battered body is found in her abandoned cabin…
At the center of it all lies the witty and down-to-earth divorce lawyer, Toby Wong. How did she manage to get wrapped up in all of this…again?
All Toby wanted was to settle into island life and start working on her own love story—torn between the wealthy and charismatic Josh Barton, and the adorable and dependable detective Colin Destin.
But Toby's romantic prospects take the back burner when her mom's best friend, Daphne Dane, disappears. Toby soon discovers that Daphne's latest boyfriend is both an alleged conman and the cheating husband of her newest client. Could he be behind Daphne's disappearance? What about Daphne's children, vying for their aging mother's money?
When a dead body is uncovered that entwines both Colin and Josh with the Dane family drama, Toby begins to realize her own life may be in danger.
Equal parts cozy mystery and romantic suspense, the second novel in Elka Ray's Vancouver Island mystery series will keep you up late with a twisty tale of rivalry, love, money, and murder.
Praise For Killer Coin…
Elka Ray writes beautifully. Her quietly bewitching style quite seduced me and I had no choice but to keep turning pages – so it was lucky that she also offered an engaging mystery and compelling characters.
— De Gevallene

I just didn't put this down... I said in my review of Divorce is Murder that I hoped another book would follow. Looks like my wish came true so...I'll wish again.
— Kathy Allen

The Killer Coin is an engaging and intricate mystery with a fast-paced plot, interesting characters and a
handsome potbelly pig to add spice and sass.
— Andra Lynn

Toby Wong is one of those characters that you will connect with on a deeper level. She is quirky, loveable,
and completely relatable. Between her relationship with her hippie Mother, her best friend and new mother,
Quinn, she relishes her time with each of them.

While this is a cozy mystery, there is a touch of romance on top of the suspense and action scenes. You will
enjoy all the twists that Ms. Ray throws in the way to the end. The whodunit caught me completely off guard.
I can't wait to see what Toby gets into next.
— Marika Weber

A fast paced fun mystery/drama that grabs you from the first few pages! Fast and Dirty! Just how I like them!
— Jennifer Wilson

I have never connected with a main character so effortlessly. Ray's ability to create such multidimensional characters coupled with her cleverness to devise thrilling, exciting plot twists that kept even this skilled crime solver guessing! Killer Coin is a captivating book that every mystery fan and romantic suspense reader should have on their bookshelf!
— Ally Swanson

Take a delightful armchair vacation to Victoria, Vancouver Island, and peek in on a quirky Asian daughter/mother team who become embroiled in a murder mystery and use crystals and mysticism, persistence, and just plain nosiness to deal with complicated family dynamics, romantic triangles, betrayal, and greed. Add in a couple of hunky men vying for the daughter's heart, a small-town feel, peeks at the lifestyles of the rich and famous, and a spoiled pet named Kevin, and this chronicle of strong determined women will entertain, amuse, and provide a romantic ending as well.
— ELF

The Killer Coin waits for you to pick it up... A murder mystery and a lying family - who do you suspect? There is mystery, love, sexy ladies, a bag full of coins, and a dead person. Indulge yourself in the thrilling world of Elka Ray and don't forget to get a cup of coffee! You will not have time to stand up.


— Krupali Trivedi

The suspense will keep you wondering... But will it be what you think?... This is a hot hitter for a little romance and a little suspense!
— Peggy Salkill

I knew I had to read this Thriller, after the blurb, with its unexpected ride of an introduction. The book is just as crazy a journey! From start to finish, you are kept on the edge of your seat, excited for the next turn. This book is definitely a page-turner, and I truly enjoyed every page. A definite must-read!
— Bri Wignall
Seventh Street Books, 9781645060154, 216pp.
Publication Date: November 17, 2020
About the Author
Elka Ray is the Canadian author of Divorce is Murder and Killer Coin. Born in the UK and raised in Canada, Elka has two previous novels, Saigon Dark and Hanoi Jane; a short-story collection, What You Don't Know; and a series of children's picture books about Vietnam, where she currently lives with her family. Elka grew up in Victoria, B.C. Canada, the setting for her latest mystery. When she's not writing, drawing, or reading, Elka is in the ocean.