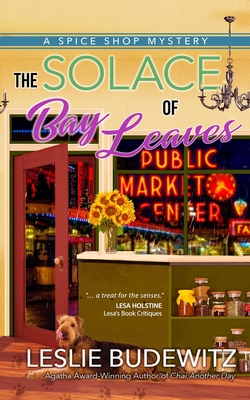 The Solace of Bay Leaves
Paperback

* Individual store prices may vary.
Other Editions of This Title:
Digital Audiobook (7/20/2020)
Description
Pepper Reece never expected to find solace in bay leaves.

But when her life fell apart at forty and she bought the venerable-but-rundown Spice Shop in Seattle's Pike Place Market, her days took a tasty turn. Now she's savoring the prospect of a flavorful fall and a busy holiday cooking season, until danger bubbles to the surface . . .

Between managing her shop, worrying about her staff, and navigating a delicious new relationship, Pepper's firing on all burners. But when her childhood friend Maddie is shot and gravely wounded, the incident is quickly tied to an unsolved murder that left another close friend a widow.

Convinced that the secret to both crimes lies in the history of a once-beloved building, Pepper uses her local-girl contacts and her talent for asking questions to unearth startling links between the past and present—links that suggest her childhood friend may not have been the Golden Girl she appeared to be. Pepper is forced to face her own regrets and unsavory emotions, if she wants to save Maddie's life—and her own.
Praise For The Solace of Bay Leaves…
Agatha Award winner Budewitz's savory fifth Spice Shop Mystery (after 2019's Chai Another Day) opens with Pepper Reece, owner of Seattle Spice, a taste-tingling shop located in Seattle's Pike Place Market, having dinner with her best friend, Kristen Gardiner. Then Kristen receives a frantic text from their mutual friend Laurel Halloran, who has just learned that a handgun used in a recent shooting is a match for the gun used in her husband Pat's unsolved murder three years earlier. Pepper is shocked to hear that the shooting victim is real estate developer Mattie Petrosian, a childhood acquaintance. Mattie is unconscious, and since there were no witnesses, the police have little to go on. What could Mattie possibly have had in common with a murdered man she barely knew? But as Pepper tries to make a connection between the shootings, she learns that Mattie and her husband may have been unwitting victims of a grievance that has lasted through generations. Budewitz's affection for Seattle is apparent on every page. Foodie mystery aficionados will love the mouthwatering recipes at the end.
— Publishers Weekly

Pepper Reece and her best friend, Kristen, are on a double date in Seattle's Jazz Alley when they each receive a text from widow Laurel Halloran asking them to come to her houseboat, where the police are waiting. Laurel's husband, Patrick, an assistant U.S. attorney, was murdered three years earlier, shot in their home, and the police and the FBI are still investigating. Now, there's been another shooting with the same gun in the same neighborhood. Maddie Petrosian, a developer who went to school with Pepper and Kristen, is in the hospital in a coma. Pepper, the owner of the Spice Shop in the Pike Place Market, has been accidentally involved in enough investigations in the last year that the police expect she'll look into this one. Even while Pepper runs her business and pries into neighborhood secrets that could have led to the murders, she examines her own feelings in this complex, well-developed mystery.

VERDICT The character-driven mystery by the award-winning author of Death al Dente is darker than many cozies. Readers attracted to unusual settings and mature, introspective amateur sleuths will appreciate this intricately plotted story depicting the impact of murder on the family and community.
— Library Journal (Starred Review)

Leslie Budewitz has written an absorbing page-turner that mystery fans will love.
— Suspense Magazine

This cozy mystery is a perfect mix of intrigue, neighborhood development schemes, and a great collection of soup recipes.
— The Missoulian

Adventurous, quirky, eerie...this whodunnit—fifth in the Spice Shop Mystery series penned by Leslie Budewitz—has it all.
— Woman's World

A hit with nanas everywhere!
— Molly, Read Between the Lines Podcast
Seventh Street Books, 9781645060178, 246pp.
Publication Date: October 20, 2020
About the Author
Leslie Budewitz blends her passion for food, great mysteries, and the Northwest in two cozy mystery series, the Spice Shop Mysteries, set in Seattle's Pike Place Market, and the Food Lovers' Village Mysteries, set in NW Montana. Leslie is the winner of three Agatha Awards—2013 Best First Novel for DEATH AL DENTE, the first Food Lovers' Village mystery; 2011 Best Nonfiction, and 2018 Best Short Story, for "All God's Sparrows," her first historical fiction. Her work has also won or been nominated for Derringer, Anthony, and Macavity awards. A past president of Sisters in Crime and a current board member of Mystery Writers of America, she lives and cooks in NW Montana.