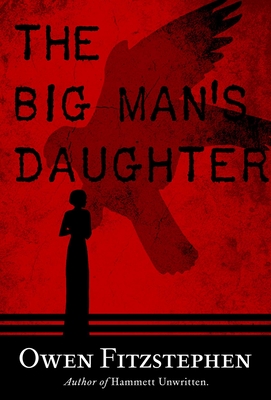 The Big Man's Daughter
Paperback

* Individual store prices may vary.
Description
18 year-old Rita Gaspereaux is suddenly "orphaned" when her con-artist father's illegal enterprise blows up around her. Alone and broke in San Francisco 1922, she must now navigate his criminal world, all the time haunted by tales of a black bird statuette reputed to possess otherworldly, wish-fulfilling powers. Rita has learned much from her father about the dark fringes of society. But has she learned enough? Fortunately, she is not without her own resources. What helps her most to cope with the greed, cruelty, and deceit around her is her almost obsessive reading of fiction, particularly the novel she possesses (and is possessed by) at the time of her father's death. This book-within-the-book, a source of escape and solace for the blossoming young con-artist, tells the story of another 18 year-old, a Dorothy G. from Kansas. The two young women couldn't be more different. But as the story proceeds their lives become entwined in unexpected ways. The haunting conclusion is breathtaking.
Praise For The Big Man's Daughter…
Gordon McAlpine (writing here as Owen Fitzstephen) is one of our foremost practitioners of literary mystery. Descended from the line of ingenious inventors like Borges, his work penetrates and explores the history of books and storytelling… McAlpine brings a powerful new light to a classic noir story.
— CrimeReads (Top 10 Noir Novels of 2020)

Lies, cons, shifting alliances, kidnapping, and death propel readers toward a strangely hypnotic climax, which is skillfully presaged yet still an exhilarating surprise. Fans of metafictional mysteries will be enthralled.
— Publishers Weekly (Starred Review)

Damn you, Fitzstephen! You've done it again! It may not be a detective novel, or even a mystery, really, but it's a heady brew all the same; a ballsy, carefully assembled and psychologically sharp read that tears into the guts of what it's like to be young, scared and not sure where you're going. Or where exactly you've been. If you're a Hammett fan, you're going to love this.
— The New Thrilling Detective Website

To plunge into the fictional worlds of Gordon McAlpine novels is invariably to become entangled in ingenious twists on reality and narrative rarely found elsewhere, even when he's re-imagining characters in worlds parallel to those invented by others, in this case Dashiell Hammett. Just as Hammett made imagined crime feel real, McAlpine makes metafiction mischief suffused with meaning; from the masterful Hammett Unwritten, to the too-wonderful-not-to-mention Woman with a Blue Pencil, and now the mesmerizing The Big Man's Daughter, McAlpine's novels prove as moving as they do dazzling.
— New York Journal of Books

Yet another purely delightful metafictional crime novel with wit, invention and surprising humanity from that master of the improbable Gordon McAlpine writing under his pseudonym. …Skirting metaphysics and ending with a bittersweet, moving and satisfying ending which will haave you choking or wiping a tear from your eye. Damn wonderful.
— Book of the Month, Crimetime.co.uk

The structure and plot are both inventive, the ending unexpected... It's sharp, at times LOL funny, and a quick read that takes you into the familiar Californian noir world of the golden age of US crime writing.
— Crime Thriller Hound

Like the craftiest of Dashiell Hammett's grifters, Owen Fitzstephen plays the long con: baiting readers with a story we think we know before slipping us a Mickey Finn from which we awake unsure of where we are and what is real. The Big Man's Daughter is stunning. Fan's of Hammatt must not miss this multilayered, metaphysical adventure.
— Jennifer Kincheloe, author of the Anna Blanc Mysteries

Wildly inventive, elegantly perplexing and expertly told. Have fun trying to keep up with Owen Fitzstephen's imagination.
— Steve Goble, author of the Spider John Mysteries
Seventh Street Books, 9781645060192, 184pp.
Publication Date: September 15, 2020