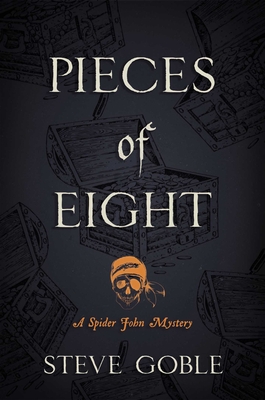 Pieces of Eight (A Spider John Mystery #4)
Paperback

* Individual store prices may vary.
Description
Spider, a decent man forced into the violent pirate life years ago, is finally on the verge of leaving all that behind and reuniting with his wife, Emma, and the son he last saw as a baby. He and his friends—Odin the ancient buccaneer and Hob the young swashbuckler—are working as honest seamen aboard Minuet when the calm journey from England to Nantucket takes a dark turn.

A shipmate is murdered while working aloft, and Spider can't help but try to figure out who the killer is—even as his friend Odin warns him that getting involved might lead authorities to discover Spider's own piratical past. Ruth Copper, a beautiful and dangerous recent addition to Spider's crew, offers some warnings too. Spider John, however, hates unanswered questions. The investigation reveals more than simple murder, and Spider and his friends find themselves fighting against a shipboard conspiracy that explodes into violence. That encounter, along with unexpected developments at home while Spider was away at sea, sets the stage for another killing and a manhunt that sends Spider back into hiding and fighting for his life against cutthroats and thieves. By the time Spider is done thinking and fighting his way through all the obstacles to reach the truth, he finds himself confronted with more difficult life decisions—and wondering whether the pirate life is perhaps the only place left for him.
Praise For Pieces of Eight (A Spider John Mystery #4)…
Steve Goble's Pieces of Eight is a stormy gem of a historical adventure, featuring a colorful and violent band of eighteenth-century misfits. Peril on every page, and brimming with heart, gore, and passion. You won't put this down. Impeccably researched and richly detailed, Pieces of Eight is an entertaining jag that recalls the Odyssey in a most clever way...if Odysseus had been a pirate.
— James W. Ziskin, author of the Anthony and Macavity award-winning Ellie Stone mysteries

Bodies and blunderbusses abound as Spider John and his motley crew of friends are back in fine form!

Goble's mystery plot ticks along like clockwork, but the real attraction is the voice of Spider John, a reluctant pirate who just wants to get home to his wife and son. But with Spider finally within sight of that goal, one obstacle after another presents itself. As mysteries are revealed, Spider is forced to ask: Who are we to judge the hearts of those around us, and who are we to pretend that we know our own motivations?

A rum-soaked ride filled with historical accuracy, whip-smart observation, and mysterious deaths, Pieces of Eight is sure to appeal to mystery fans with a little piracy in their hearts.


— Dan Stout, author of 'Titanshade'
Seventh Street Books, 9781645060369, 240pp.
Publication Date: March 16, 2021
About the Author
is the author of The Bloody Black Flag, The Devil's Wind, and A Bottle of Rum of the Spider John mystery novels. A former journalist, Goble now works in communications for a cybersecurity firm. Previously, he wrote a weekly craft-beer column called "Brewologist," which appeared on USA Today Network-Ohio websites.