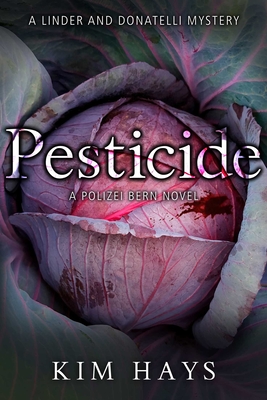 Pesticide
Paperback

* Individual store prices may vary.
Description
Bern, Switzerland—known for its narrow cobblestone streets, decorative fountains, and striking towers. Yet dark currents run through this charming medieval city and beyond, to the idyllic farmlands that surround it.

When a rave on a hot summer night erupts into violent riots, a young man is found the next morning bludgeoned to death with a policeman's club. Seasoned detective Giuliana Linder is assigned to the case. That same day, an elderly organic farmer turns up dead and drenched with pesticide. Enter Giuliana's younger—and distractingly attractive—colleague Renzo Donatelli to investigate the second murder. Giuliana's disappointment that they're on two different cases is tinged with relief—her home life is complicated enough without the risk of a fling.

But when an unexpected discovery ties the two victims into a single case, Giuliana and Renzo are thrown closer together than ever before. Dangerously close. Will Giuliana be able to handle the threats to her marriage and to her assumptions about the police? If she wants to prevent another murder, she'll have to put her life on the line—and her principles.

Combining suspense and romance, this debut mystery in the Polizei Bern series offers a distinctive picture of the Swiss. An inventive tale, packed with surprises, it will keep readers guessing until the end.
Praise For Pesticide…
"Kim Hays brings a sparkling new voice to police procedurals, giving us engaging and realistically drawn detectives who struggle to balance their personal lives with the demands of a gripping investigation. Set against the fascinating backdrop of modern Switzerland, Pesticide will delight crime fiction fans--a standout debut for 2022!"
— Deborah Crombie, New York Times bestselling author of the award-winning Duncan Kincaid/Gemma James novels

"Kim Hays hits it out of the park with her debut novel, Pesticide, giving this twisty police procedural lots of heart by creating characters that the reader truly cares about. It is a must read for mystery lovers, especially those who prefer their intrigue with an international edge."
— Allen Eskens, bestselling and award-winning author of The Stolen Hours and six Max Rupert and Joe Talbot mysteries

"A highly original police procedural, set in Switzerland, with a charming cop heroine who is also a mum, and blending drug deals and organic farming to produce a first-rate yarn."
— Martin Walker, editor-in-chief emeritus of United Press International and author of the Bruno, Chief of Police series

"Giuliana Linder and Renzo Donatelli make for one of the sharpest, most compelling police duos you'll ever read. Their conflicted attraction bristles with true emotional depth and poignancy as they lead a rich ensemble cast through the surprisingly nefarious world of organic politics. A remarkable procedural set in Bern, Kim Hays's Pesticide is Switzerland's answer to Scandinavian noir. Fresh and oh so readable, you won't want to put it down."
— James W. Ziskin, author of the award-winning Ellie Stone mysteries

"Kim Hays delivers a superbly written mystery set in Switzerland. Two murders, one in the old town of Bern, the other on a nearby organic farm, test the wits of veteran police detective Giuliana Linder and her handsome junior colleague, Renzo Donatelli. The setting is fresh, the characters richly developed, and the plot as intricate as the inside of a Swiss watch. Enjoy!"
— Betsy Draine and Michael Hinden, co-authors of the Nora Barnes and Toby Sandler mysteries

"A convincing and compelling page-turner in a unique and authentic setting, Pesticide is a cleverly-plotted mystery that manages to be well-researched, intriguing, and entertaining. Kim Hays writes complex characters and suspense equally well, and her investigating duo, Giuliana and Renzo, are sure to win the hearts of readers everywhere."
— Clare O'Dea, author of Voting Day
Seventh Street Books, 9781645060468, 358pp.
Publication Date: April 19, 2022
About the Author
Kim Hays is a dual citizen of Switzerland and the US who lives in Bern with her Swiss husband. Before her marriage, she lived in San Juan, Vancouver, and Stockholm, as well as the States. Since her teens, Hays has worked in a variety of jobs, from forewoman in a truck-engine factory to lecturer in sociology to cross-cultural trainer for multinational firms. She found a publisher for Pesticide after it was shortlisted for the 2020 Debut Dagger award by the Crime Writers' Association. Hays has a BA from Harvard and a PhD from the University of California-Berkeley.