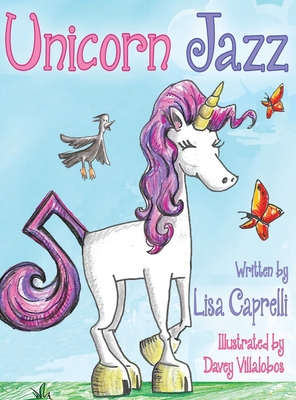 Unicorn Jazz (Hardcover)
Happy and Fun Lifestyle LLC, 9781645167983, 32pp.
Publication Date: December 18, 2018
Other Editions of This Title:
Hardcover, Spanish (3/1/2019)
* Individual store prices may vary.
Description
Unicorn children's book series comes the popular Unicorn Jazz picture books Your child will enjoy learning about the importance of friendship, being unique and the power of believing in others, with this fun and colorful unicorn kid book for children of all ages Social emotional learning for kids in the classroom is encouraged by teachers, counselors and school librarians in elementary schools nationwide.
Meet the many friendly characters including Woof the Crow who will help Unicorn Jazz on her way to discovering her talent for singing, belonging and friendship.
This book was especially designed to be educational and the words used have been especially chosen to improve the vocabulary of your child, so don't miss out on the opportunity to improve your child's vocabulary while at the same time teaching your child valuable life lessons through a funny, relatable unicorn that will definitely bring a smile to your child
Be sure to listen to the original UNCORN JAZZ FRIENDSHIP SONG found on Spotify, Itunes, YouTube, Amazon Play along with the Audible audiobook version that children can enjoy singing and reading along to

"This book represents the importance of family and friends with a focus on finding strength in being unique." Suzanne Funk B.E.D., M. Ed.
"Every child and school library should read this book and don't forget the unicorn coloring books, curriculum and activities that go with this book " -M. Minerva, Teacher
Review by the Happy Mindset, Podcast Host, Denis Murphy:
"EMBRACE WHO YOU ARE " Lisa has a wonderful way of helping the reader to connect with who they are and embrace their quirks and ambitions. Unicorn Jazz will help children to internalize important messages such as the value of real friendship and not being afraid to show the world who they are. The illustrations in this book are really great - simple, colorful and make the story come to life

EDITORIAL REVIEWS:
UNICORN JAZZ - a richly impressive story for children that encourages acknowledging self worth and the importance of friendships. -Grady Harp, Top Contributor, Childrens Books Hall of Fame Top 100 Reviewer

Lisa Caprelli's Unicorn Jazz carries with it a timelessly serene message of hope for our upcoming generations. An Amazonian Wonder-Woman tale in the form of a harmonious unicorn fable, Unicorn Jazz depicts the features that warm and empower the essence of our natural fibers as we grow effortlessly, though not entirely without moments of fear and strain, through our childhood stages of psychological self-development. Erick Kusmirek, Book Reviewer

Lisa Caprelli shares the working of her creative mind and joyfully brings readers into the colorful, happy and empowering world of 'Unicorn Jazz'. Her heart is evident in every page and the take-away message of kindness, acceptance and celebrating our uniqueness is presented in a way that adults can model from and teach, and children can engage to and listen. In my practice with families, I have seen how necessary compassion, acceptance and self-pride development are to building a healthy sense of self-esteem and self-worth, finding a sense of safety in self and others, and using this strong foundation to explore relationships and the world around them. Unicorn Jazz teaches these concepts at a fundamental age. I highly recommend checking out Unicorn Jazz for you and the developing children in your lives. -Dr. Stacey Zlotnick
About the Author
Lisa is a proud Latina mom who grew up with adversity, but found her voice in writing.
This best-selling author is the visionary creator for the Unicorn Jazz stories, along with several other books for adults and young minds of all ages, like "Skip a Step." She graduated magna cum laude with a Bachelor's of Science Degree in Social Psychology and her quest for studying human behavior is seen in her author visits, school visits, hospital and community messages with kids, parents and educators.

UNICORN JAZZ is a story that has many lessons depending on your child's age. Top takeaways have been: "I am different and that's awesome." "We're all different as human beings." "We all thrive for friendship, kindness and love in our lives."

IN HER OWN WORDS: I wrote the first book in it series, Unicorn Jazz, to help parents and teachers have important conversations with children that include compassion, understanding and social emotional learning skills. It is important for children to realize they have a voice and the ability to reach out to others. There are children who look or feel different, who might be teased at school (like I was), want to belong, matter and develop friendships.
"Passion creates attraction. It manifests visions to accomplish the impossible!"

Unicorn Jazz book is the first in Lisa's children's book series and its mission is to achieve a global unicorn love.

She enjoys writing, teaching and researching to create a culture of communication, fulfillment and happiness. This lends back to her inquisitive nature of understanding human behavior to improve personal or business relationships. She is host of the Happy Lifestyle Online Show. "Interviewing people and learning about their successes, experiences and struggles has always been fascinating to me because we have the capacity as human beings to be and do more than we ever thought possible by drawing from other people's perspectives."

Lisa's ambitious and multi-faceted perspective inspires people all around her to live a life of purpose. Born and raised in El Paso, Texas she now resides in Orange County, California with her fiance, Chris and her children. As a writer, marketer and business development leader with over 25 yrs of experience, having worked with hundreds of CEO's, she is called upon for strategy, motivation and inspiration. She enjoys speaking and teaching diverse audiences of all ages: toddlers, elementary schools, teens, educators, parents, counselors, librarians and more.