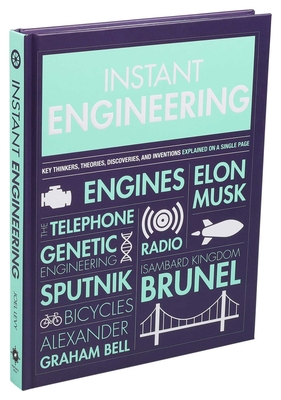 Instant Engineering (Instant Knowledge) (Hardcover)
Portable Press, 9781645170549, 176pp.
Publication Date: June 9, 2020
* Individual store prices may vary.
Description
Key thinkers, theories, discoveries, and inventions explained on a single page!
 

Instant Engineering pulls together all the pivotal engineering theories and discoveries into one concise volume. Each page contains a distinct "cheat sheet," which tells you the most important facts in bite-size chunks, so you can feel like an expert in minutes! From Archimedes to Elon Musk, from pumps and pulleys to the steam engine, and from the canal boat to the space rocket—every key figure, theory, or term is expressed in succinct and lively text and graphics. Perfect for the knowledge-hungry and time-poor, this collection of graphics-led lessons makes engineering interesting and accessible. Everything you need to know—and more!—packed into one convenient volume.
 
About the Author
Joel Levy is a writer and journalist specializing in science and nature. His other books include A Curious History of Mathematics, Really Useful: The Science and History of Everyday Technology, Poison: A Social History, Newton's Notebooks, and A Bee in a Cathedral.