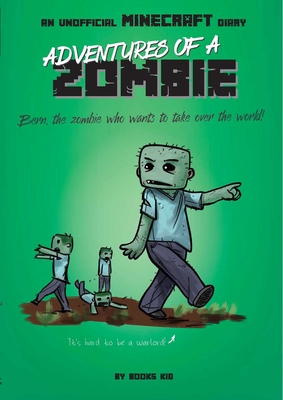 Adventures of a Zombie
An Unofficial Minecraft Diary
Paperback

* Individual store prices may vary.
Description
Follow the adventures of Bern the Zombie—leader of the greatest zombie army in Minecraftian history—in this humorous, illustrated chapter book diary.

It has taken years of determination, but finally Bern the Zombie has assembled the largest army of zombies that Minecraftia has ever seen. What exactly does Bern plan to do with his army? Take over the Overworld, of course! But Bern is the first to admit that most zombies aren't terribly bright. For instance, they have trouble with basic things, like knowing their left from their right. Read every hilarious misstep of Bern's quest in Adventures of a Zombie, an unofficial Minecraft chapter book diary with black-and-white illustrations.
Silver Dolphin Books, 9781645176831, 144pp.
Publication Date: May 11, 2021
About the Author
Books Kid believes behind every Minecraft character is a story. In early 2015, he began releasing those stories as Minecraft fan fiction eBooks on Amazon. Two years later, he had released more than 40 eBooks that hit Amazon's U.S. top 100 chart for children's eBooks. His stories focus on promoting reading comprehension and vocabulary, while providing the creative entertainment that he and other Minecraft fans love. After making his international debut in France with 404 editions in February 2018, he has now been published in seven different languages and is signed with the renowned U.S. children's educational publisher Silver Dolphin Books.