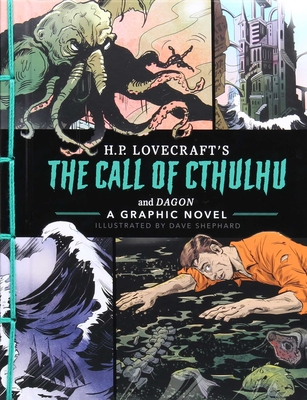 The Call of Cthulhu and Dagon
A Graphic Novel (Graphic Classics)
Hardcover

* Individual store prices may vary.
Description
Dive into these dark, haunting, and richly illustrated adaptations of two tales from H. P. Lovecraft's Cthulhu Mythos.

In this hauntingly illustrated adaptation of two of H. P. Lovecraft's most famous stories from the Cthulhu Mythos, illustrator Dave Shephard captivates readers with stories of supernatural monsters so powerful that humanity is deemed irrelevant. The Call of Cthulhu and Dagon introduce the Great Old Ones, powerful deities who reside outside the normal dimensions of space-time, with physical forms that are impossible for the human mind to fathom. This handsome thread-bound edition presents these stories in rich and colorful detail, making it an accessible and entertaining gateway to Lovecraft's world. Makes a perfect gift for fans of Lovecraft, his work, and the HBO series Lovecraft Country.
Canterbury Classics, 9781645177074, 144pp.
Publication Date: March 2, 2021
About the Author
Dave Shephard moved down to the south coast of England to study illustration at Brighton College many years ago. A love of drawing and sea swimming made the town a natural fit. Since then, he's worked in the wonderfully varied and ever-evolving world of illustration. He specializes in books for teens and younger readers, as well as graphic novels.

H. P. Lovecraft was an American author of horror, fantasy, and science fiction, especially the subgenre known as weird fiction.

Pete Katz is a half-Irish, half-Greek illustrator and writer, born in the East End of London. He has been a freelance illustrator for more than twenty years and has worked for clients including Image Comics, Oxfam, Harvey Nichols, Barnes & Noble, Scholastic, Canterbury Classics, and the British Museum. As well as illustrating his graphic novels, he writes and adapts the scripts for most of them and is published worldwide in fifteen languages. Along with working on graphic novels, he also produces portraits, t-shirt graphics, and other commissions.