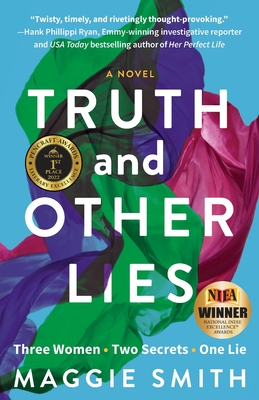 Truth and Other Lies
Paperback

* Individual store prices may vary.
Description
WINNER OF THE 2022 NATIONAL INDIE EXCELLENCE AWARD
The Devil Wears Prada meets All the President's Men
Megan Barnes' life is in free fall. After losing both her job as a reporter and her boyfriend in the same day, she retreats to Chicago and moves in with Helen, her over-protective mother. Before long, the two are clashing over everything from pro-choice to #MeToo, not to mention Helen's run for U.S. Congress, which puts Megan's career on hold until after the election.
Desperate to reboot her life, Megan gets her chance when an altercation at a campus rally brings her face-to-face with Pulitzer Prize-winning journalist Jocelyn Jones, who offers her a job on her PR team. Before long, Megan is pulled into the heady world of fame and glamour her charismatic new mentor represents.
Until an anonymous tweet brings it all crashing down. To salvage Jocelyn's reputation, Megan must locate the online troll and expose the lies. But when the trail leads to blackmail, and circles back to her own mother, Megan realizes if she pulls any harder on this thread, what should have been the scoop of her career could unravel into a tabloid nightmare.
Readers who love Jodi Picoult's topical plot twists and Liane Moriarty's character-driven novels will devour this fast-paced tale of three women whose lives converge as one fights a devastating accusation, another campaigns for a contested seat in Congress, and one, the young reporter with ties to both, navigates the tricky line between secrets and lies.
Praise For Truth and Other Lies…
The political skews personal in this debut, which focuses on the bonds of powerful women in the rough-and-tumble world of politics and government. Smith's characters sometimes do each other in, more often do each other proud, always with an awareness of the fragility of reputation set against the abiding strength of spirit. Smith leads with boldness and heart from the first page.
—Jacquelyn Mitchard, author of The Deep End of the Ocean and The Good Son

"Truth and Other Lies is my favorite kind of novel—one that tackles tough topics in a breezy, compulsively readable way. Maggie Smith is a welcome new voice in fiction."
—Camille Pagán, bestselling author of Don't Make Me Turn This Life Around

Keenly observed, tense, and smart, Smith unravels the complexity of being a journalist in a time where loyalty, motherhood, and the medium itself are in a constant state of flux. Truth and Other Lies has everything you want in a book and more.
—Ann Garvin, USA Today Bestselling author of I Though You Said This Would Work


This ambitious debut tackles not only mother-daughter dynamics and family secrets, but also the workplace and real-world politics affecting modern women. Written with an engaging, conversational tone, the story conflicts are both realistic and substantial.
—Wall Street Journal and USA Today bestselling author Jamie Beck


Truth and Other Lies promises three women, two secrets, and one lie and boy does it deliver. Smith deftly weaves serious social issues such as abortion, sexual harassment, and toxic social media with the more typical women's fiction themes of female friendship, mother-daughter conflict, and romantic relationships, resulting in a taut and timely story. The surprise ending will leave you wishing for a sequel.
—A.H. Kim, author of A Good Family


An engaging and topical tale of politics and journalistic ethics with a feminist slant.
—Kirkus Reviews

Ten16 Press, 9781645382621, 360pp.
Publication Date: March 8, 2022
About the Author
Maggie Smith lives in Wisconsin and her debut novel, TRUTH & OTHER LIES, will be published by Ten16Press in March 2022. She's the host of the weekly podcast Hear Us Roar (available on Apple Podcasts, Spotify, and Google) where she interviews debut women's fiction authors about their novel and their path to publication. Her first-ever short story, THE DEVIL YOU KNOW, appeared in the RMFW's 2018 anthology False Faces and she's also a regular monthly blogger for RMFW. A board member of the Chicago Writer's Association, she serves as Managing Editor of their on-line literary publication The Write City Magazine.