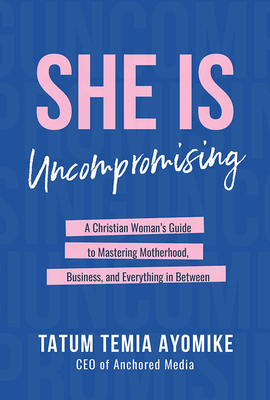 She Is Uncompromising
A Christian Woman's Guide to Mastering Motherhood, Business, and Everything in Between
Hardcover

* Individual store prices may vary.
Description
Christian, wife, mom, businesswoman--you really can (and should ) have them all, happily.
Women are constantly told to sacrifice ambition in order to have the rich family life that we all deserve. That's a lie.
When we quietly accept this lie, we kill an important part of ourselves and our destiny. We compromise who we are until we end up unhappy and failing to fulfill God's plan for our lives.
As the host of top business podcast Blessed + Bossed Up and CEO of Anchored Media, Tatum Temia Ayomike--an entrepreneur, mother, wife, and devout Christian--has created a community of businesswomen who refuse to settle for less than total life success.
Total life success means the baby and the business. The thriving marriage and the growing company. Purpose and profit. Destiny and dedication to the path predestined for you. It's whatever makes you happy, whole, and fulfilled.
She Is Uncompromising reveals the hard-won lessons and spiritual truths that can help all women take control of their lives. Filled with poignant scriptures, intimate stories, and practical exercises, it is a must-have blueprint for building an unbreakable foundation of faith, family, and abundance.
Amplify Publishing, 9781645439660, 160pp.
Publication Date: December 6, 2022