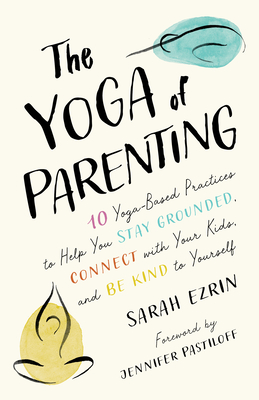 The Yoga of Parenting
Ten Yoga-Based Practices to Help You Stay Grounded, Connect with Your Kids, and Be Kind to Yourself
Paperback

* Individual store prices may vary.
Description

Bring the wisdom of yoga into your parenting journey.

Mom and yogi Sarah Ezrin offers 34 practices to find more presence, patience, and acceptance—with your child and with yourself.
"I can say without a doubt that the most advanced yoga I've ever done is raising a child," writes Sarah Ezrin. While many people think of yoga as poses on a mat,
The Yoga of Parenting
supports people in bringing the spiritual principles of yoga into their lives—particularly their families. Ezrin, a longtime yoga teacher, supports readers and practitioners in slowing down, becoming present with our children and ourselves, and acting with more compassion. 
Each chapter highlights a yogic posture and theme and explores how it relates to parenting, including presence, boundaries, balance, and nonattachment. Chapters include prompts such as intention setting, breathwork, and journaling. Ezrin also features the stories and insights of a wide range of yoga practitioner parents whose experiences include single parenting, grandparenting, and passing on intergenerational yoga traditions. In addition to the opening posture, each chapter includes: 
"Breath Breaks" invitations to mindfully breathe. 
"On the Mat" practices to show us how we can apply the lessons on our yoga mat in a more general sense. 
"Parenting in Practice" offering and advice from parents in the US and abroad.
"Off the Mat and Into the Family" fun exercises to help us bring the work off the mat and into our homes. 
Practicing yoga can help us become kinder to ourselves, more aware of our thoughts and actions, and more present in our lives. What more important sphere to want to become kinder, more aware, and more present than with our families?
Praise For The Yoga of Parenting: Ten Yoga-Based Practices to Help You Stay Grounded, Connect with Your Kids, and Be Kind to Yourself…
"With depth, storytelling, and experience, Sarah Ezrin draws from the wisdom of yoga philosophy to bring empathy and appreciation to parenting, reminding readers that parenthood is a valuable and important spiritual practice in its own right. I wish I had The Yoga of Parenting when I was raising my kids. Fortunately, the benefits of this book extend to parents like me, who are beyond the early intensive parenting years. I love this book!"—Britta Bushnell, PhD, author of Transformed by Birth
 
"Parenthood is a wild ride with many different phases. The Yoga of Parenting draws from the Yogic tradition and teaches us to embrace the enormous responsibility and privilege of parenting with wisdom and humor. Sarah Ezrin gracefully weaves yoga asanas, personal stories, and the philosophical teachings from many different traditions. Staying grounded as a parent can be challenging on any given day and having real world techniques to guide us is truly a gift!"—Desi Bartlett, MS, CPT, E-RYT, author of Total Body Beautiful

"Mom-ing is hard; yoga can help. This optimistic book offers empathy, followed by gentle techniques for grounding and connecting so that your practice can uplift your parenting."—Lizzie Lasater, yoga teacher, designer

"The Yoga of Parenting is not just for people familiar with yoga; it is accessible, relatable, and transformative for people with a longtime practice and those who never thought yoga was for them. Sarah skillfully weaves in storytelling, wisdom, and reflection to make this a truly practical guide for parents and caregivers on the messy and humbling journey of raising a human. Raising a child can break us or grow our soul. Yoga philosophy can offer a framework for allowing parenting to be the latter while acknowledging our humanity."—Hala Khouri, MA, SEP, E-RYT, author of Peace from Anxiety

"The Yoga of Parenting is a soothing balm for all of us who have the privilege and challenge of caring for children. It's like a long slow exhale, creating space for reflection in the midst of the chaos. Sarah Ezrin reminds us that parenting is a spiritual journey made up of opposites—of connection and separation, intimacy and boundaries, inhales and exhales. She offers us yoga teachings and practices to balance those opposites and cultivate a meaningful and peaceful family life."—Jivana Heyman, author of Accessible Yoga and Yoga Revolution

"A central question for many parents who practice yoga is this: How to leverage the structure and power of on the mat yoga practice within the constantly changing, unpredictable, and hardly structured real life of being a parent? Sarah Erzin responds to this question in a generous, insightful, and practical way in The Yoga of Parenting. Clear-sighted and firmly rooted in the everyday reality of parenting, her book reminds the reader that in the realm of parenting practice does not make 'perfect'—practice makes 'possible.'"—Octavia Raheem, author of Pause, Rest, Be and Gather

"With insight, humor, and practical advice gleaned over years of experience, Sarah Ezrin has written a deeply meaningful book about yoga-informed parenting. As parents, we can use all the wisdom and support that we can get to stay grounded and connected to ourselves—and our children. Thankfully, Sarah has written this essential book to guide you on a path that's true for you, with plenty of warmth and not a drop of shame."—Andrea Ferretti, former Senior Editor at Yoga Journal, Yogaland podcast host

"The Yoga of Parenting is the perfect nourishment for any parent. Sarah's voice is potent and needed in the world. Her book is charming, disarmingly candid, and packed full of actionable wisdom. Keep it as a bedside reference, and in your tote for daily wisdom, as it will become a valued member of your reference library. The Yoga of Parenting will support you in your journey of presence, connection, and remembering what is truly important."—Melanie Salvatore-August, author of Yoga to Support Immunity and Fierce Kindness
Shambhala, 9781645471172, 248pp.
Publication Date: June 6, 2023
About the Author
SARAH EZRIN is a freelance writer, yoga educator, and mama based in the San Francisco Bay Area. Her honesty and innate wisdom make her writing, classes, and social media sources of healing for many people. Sarah is a frequent contributor to Yoga Journal, as well as Yoga International and LA Yoga. She has been interviewed in The Wall Street Journal, Forbes, and Bustle.com, and she has appeared on NBC news. She also writes for parenting outlets, including Scary Mommy, Motherly, Healthline, and Mind Body Green.