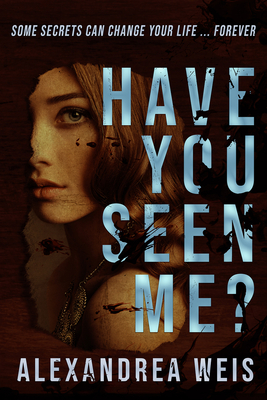 Have You Seen Me?
Hardcover

* Individual store prices may vary.
Description
Have You Seen Me? by Alexandrea Weis is a gripping, unputdownable thriller that will appeal to fans of They Never Learn [Layne Fargo] and A Good Girl's Guide to Murder [Holly Jackson]...I couldn't put it down."- Leighton, Goodreads

SOME SECRETS CAN CHANGE YOUR LIFE ... FOREVER.

Lindsey Gillett is missing.

And she's not the first girl at Waverly Prep to vanish without a trace.

To help cope with the tragedy, new history teacher Aubrey LaRoux organizes a small student investigation team. But when the members start turning up dead across campus, Aubrey suspects there's more going on than anyone is willing to admit.

The murdered students all had something in common with Lindsey. They shared a secret. And what they uncovered could threaten the future of the historic school.

At Waverly Prep, someone wants to keep the past buried—along with anyone who gets in their way.
 
"This thriller was fast paced and had me on the edge of my seat... a cross between And Then There Were None and a teenage slasher flick." - Tonya, Goodreads

"Reminiscent of Lois Duncan, avid readers of suspense will find a thrill...Have You Seen Me? keeps readers turning the pages, questioning everything until the very end." - Nerd Daily

"[I]t keeps you gripped and itching to find out what would happen next. I also loved how this book had How to Get Away with Murder / Scream (slasher movie) vibes." - Natalie, Goodreads

"An intriguing and atmospheric tale of murder and mayhem that will keep readers wondering what could possibly happen next." ~Booklist
 
Whether you love heroines you can't stop cheering for, nail-biting suspense, cliff-hanging page turns, twists that you couldn't imagine or characters that come alive...you haven't seen anything until Have You Seen Me? by Alexandrea Weis!
Praise For Have You Seen Me?…
"Riveting, fast paced thriller wrapped up in a mystery. Is history repeating itself or is it a coincidence? Alexandrea Weis slowly peels away layer after layer to reveal the truth. I thoroughly enjoyed reading this book and would recommend it even if you don't usually read thrillers." —Erin E. Forys, Barnes and Noble, Williamsburg, VA

"Weis addresses cultural issues such as class systems, race, and bullying all the while providing chilling and spooky imagery that is sure to have all readers begging the question: "Who will be next?" A thrilling spine-tingling novel, Have You Seen Me? had my heart racing on every page." —Tanya Roberts, CER at Indigo Books, Québec Canada

 

"With atmosphere, mercurial threats, and intrigue, Weis excels in probing the psychological undertones of a prep school and a new teacher's return to her past. She also does a fine job of evolving the plot that connects students and teachers to an unpredictable truth. As school and local history are revealed by the determined team, readers receive an eerie feel of inevitable disaster much in the manner of the classic film 'Picnic at Hanging Rock'. The buildup that leads to the truth about the killer's identity makes for a fine story that will reach from young adult to adult audiences with a winning exploration of prep school pressures, politics, and the special interests that lead to murder. Very nicely done." —Midwest Book Review
 

"A fast-paced thriller that will engage readers with great characters and a chilling mystery! I was sucked in and fully invested in finding the killer!!" —Gretchen Hall, Barnes and Noble, Houston, TX
 
Vesuvian Books, 9781645480754, 350pp.
Publication Date: August 17, 2021
About the Author
Alexandrea Weis, RN-CS, PhD, is an advanced practice nurse, multi-award-winning author, screenwriter, and historian who was born and raised in the French Quarter of New Orleans. She has taught at major universities and worked in nursing for thirty years, dealing with victims of assault, abuse, and mental illness in a clinical setting. Having grown up in the motion picture industry as the daughter of a director, she learned to tell stories from a different perspective. A member of the Horror Writers Association and International Thriller Writers Association, Weis writes mystery, suspense, thrillers, horror, crime fiction, and romance. She lives with her husband and pets in New Orleans where she is a permitted/certified wildlife rehabber with the Louisiana Wildlife and Fisheries and rescues orphaned and injured animals.