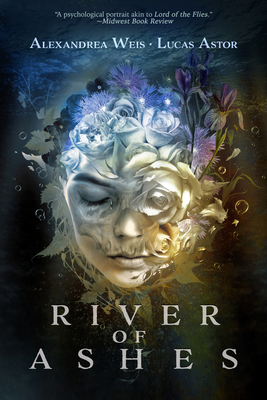 River of Ashes (St. Benedict)
Paperback

* Individual store prices may vary.
Description
"A psychological portrait akin to Lord of the Flies." ~Midwest Book Review

SOME TRUTHS ARE BETTER KEPT SECRET.
SOME SECRETS ARE BETTER OFF DEAD.

ALONG THE BANKS OF THE BOGUE FALAYA RIVER, sits the abandoned St. Francis Seminary. Beneath a canopy of oaks, blocked from prying eyes, the teens of St. Benedict High gather here on Fridays. The rest of the week belongs to school and family—but weekends belong to the river.

And the river belongs to Beau Devereaux.

The only child of a powerful family, Beau can do no wrong. Star quarterback. Handsome. Charming. The "prince" of St. Benedict is the ultimate catch.

He is also a psychopath.

A dirty family secret buried for years, Beau's evil grows unchecked. In the shadows of the haunted abbey, he commits unspeakable acts on his victims and ensures their silence with threats and intimidation. Senior year, Beau sets his sights on his girlfriend's headstrong twin sister, Leslie, who hates him. Everything he wants but cannot have, she will be his ultimate prize.

As the victim toll mounts, it becomes clear that someone must stop Beau Devereaux.

And that someone will pay with their life.

* * *

"If Gillian Flynn and Bret Easton Ellis had a book baby, it would be River of Ashes." ~Booktrib

"River of Ashes offers an inside look into the mind of a psychopath—a cautionary tale that the scariest monsters are the ones you know but never suspect." ~Pearry Teo, PhD (Award-Winning Director of The Assent, Executive Producer of Cloud Atlas)

"You could practically taste the fear." ~Laura Hernandez

"Nothing can prepare you for what you will find within these pages." ~Goodreads

"The type of cautionary tale that keeps you alive by reminding you that sometimes the biggest horrors aren't the monsters hiding under the bed but the ones hiding in plain sight." ~The Nerd Daily

"Alexandrea Weis is one of the most talented authors around, and in a short time her novels are destined to stand along with authors such as Stephen King, Gillian Flynn, Joyce Carol Oates, and Jeffery Deaver." ~The Strand Magazine

Warning: This book contains rape, violence, and a psychopath's POV, which some readers will find disturbing and might have you looking over your shoulder.
Praise For River of Ashes (St. Benedict)…
"This is the kind of novel that authors like Gillian Flynn and Paula Hawkins would be proud to write." ~ Rabia Tanveer, CEO at Beyond Content, Pakistan

"Holy snap, this was BRUTAL in the best of ways! River of Ashes turns a fearless, unwavering gaze on brutal high school jungle culture. I had to unclench my fists at the end of it. Brava." -Mercedes M. Yardley, Bram Stoker Award-winning author of Little Dead Red.

"The duel POV [takes] you closer than ever into the mind of a serial monster and his victims … Weis and Astor bring the darkness of the elite to the forefront in this fast paced psychological thriller. Highly recommend!" ~Tanya Roberts, Indigo Books, Québec Canada (@bookswithtanya)

"With reality bordering on the chilling, I jumped in feet first and was amazed … The next book can't come out fast enough because I need to know what happens next." ~Erin Forys, Barnes and Noble, Williamsburg VA

"Although this novel is concisely written and fast-paced, horrifying moments seem to last a long time and haunt the reading experience, which is the masterstroke of a true thriller and horror artist. Weis and Astor have captured the psyche, theme, and storyline of a great horror story, but they go one step further in the emotional horror that chills your bones for its sheer realism." ~K.C. Finn, USA Today Bestselling Author

"The most memorable novel with the most intriguing ending I've read this year. It's emotionally charged, quite sinister, evocative, and highly addictive." ~Emma Megan (Emma's Insights Book Review)

"If Gillian Flynn and Bret Easton Ellis had a book baby, it would be River of Ashes. Beau Devereaux is, without a doubt, one of the best-written villains you'll ever love to hate. [He] is a younger, less-sophisticated Patrick Bateman ( American Psycho ). There's an almost cinematic quality, which would make for a binge-worthy TV series … An addictive read." ~BookTrib

"As a psychological study , River of Ashes represents a standout in literature. … [it] provides a compelling focus not just on the actions of a psychopath, but the making of one. … Centered on developing relationships, good and evil, and a group of teens who teeter on an uncertain adulthood. Some will survive. Some will not. Their choices, values, and thoughts drive a story that is thoroughly engrossing even as it's emotionally gripping in its journey through sexual assault, harassment, and challenges to justice. Young women, especially, need this cautionary tale of a charming personality gone awry." ~Midwest Book Review
Vesuvian Books, 9781645480983, 340pp.
Publication Date: August 2, 2022
About the Author
Lucas Astor is from New York, has resided in Central America and the Middle East, and traveled throughout Europe. He lives a very private, virtually reclusive lifestyle, preferring to spend time with a close-knit group of friends over being in the spotlight.

He is an author and poet with a penchant for telling stories that delve into the dark side of the human psyche. He likes to explore the evil that exists not just in the world, but right next door, behind a smiling face. Astor currently lives outside of Nashville, TN.

www.LucasAstor.com

Alexandrea Weis, RN-CS, PhD, is a multi-award-winning author, screenwriter, advanced practice registered nurse, and historian who was born and raised in the French Quarter of New Orleans. She has taught at major universities and worked in nursing for thirty years, dealing with victims of sexual assault, abuse, and mental illness in a clinical setting at many New Orleans area hospitals.

Having grown up in the motion picture industry as the daughter of a director, she learned to tell stories from a different perspective. Infusing the rich tapestry of her hometown into her novels, she believes that creating vivid characters makes a story moving and memorable.

A permitted/certified wildlife rehabber with the Louisiana Wildlife and Fisheries, Weis rescues orphaned and injured animals. She lives with her husband and pets outside of New Orleans.

Weis is a member of the International Thriller Writers Organization and the Horror Writers Association.

www.AlexandreaWeis.com