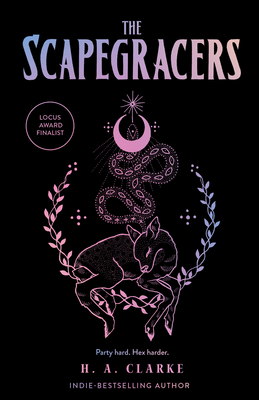 The Scapegracers
Hardcover

* Individual store prices may vary.
Other Editions of This Title:
Paperback (10/26/2021)
Paperback (10/25/2022)
MP3 CD (1/5/2021)
Description
Skulking near the bottom of West High's social pyramid, Sideways Pike lurks under the bleachers doing magic tricks for bottles of Coke. As a witch, lesbian, and lifelong outsider, she's had a hard time making friends. But when the three most popular girls pay her forty dollars to cast a spell at their Halloween party, Sideways gets swept into a new clique. The unholy trinity are dangerous angels, sugar-coated rattlesnakes, and now—unbelievably—Sideways' best friends.

Together, the four bond to form a ferocious and powerful coven. They plan parties, cast curses on jerks, and try to find Sideways a girlfriend, all while eluding the fundamentalist witchfinders hell-bent on stealing their magic. But for Sideways, the hardest part is the whole "having friends" thing. Who knew that balancing human interaction with supernatural peril could be so complicated?

Rich with the urgency of feral youth, The Scapegracers is an atmospheric, voice-driven novel of the occult that explores magic, growing up, and the complexities of friendship with all the rage of a teenage girl.
Praise For The Scapegracers…
★ "In this fierce debut, a trilogy opener, Clarke conjures up a powerful, passionate tale of female friendship and found family. . . . Unapologetically queer . . . and seething with raw emotion, this fantasy opens strong while leaving much to be explored in future installments." —Publishers Weekly, starred review

★ "Readers will love the spooky pop-culture easter eggs and appreciate a fresh spin on the mean girls theme: Readers won't despise, but will root for, this cunning, crass, and fiercely caring coven. Bitingly honest, fast-paced dialogue is a solid strength, as is the lyrical language, which is so intimate that readers will viscerally know how magic and emotions feel in Sideways' body. . . . Teenage girl magic is palpable, urgent, and simply marvelous in this must-have debut." —Kirkus, starred review

"Loner, lesbian teenage witch Sideways bubbles with nerves, insecurities, and longing in this action packed debut from a young queer writer. Bonus points for super sweet gay dads and all around great representation of diverse characters."  —Chana Porter, author of The Seep

"The Scapegracers wallops you with all the raw, thrilling vertigo of young love and new friendship, alongside a deeply-plotted mythology that will delight any magic fan. It's a jewel-studded book, with an unearthly glow. You will definitely want to join this coven."  —Jess Zimmerman, author of Basic Witches

"Sapphic teenage witches and slippery vengeance magic? Yes, please! Clarke's entertaining debut captures all the pleasure and pathos of viciously loyal high school cliques."  —Katharine Duckett, author of Miranda in Milan

"This is the dark, twisty, witchy book I've always wanted. [Clarke]'s writing is brilliant and gorgeous and firework bright."  —Kat Howard, author of An Unkindness of Magicians

"The magic especially intrigued me—so spooky and weird and dangerous but addictive."  —Shveta Thakrar, author of Star Daughter

"A fierce and magnificent debut, raw and wet as bloody scratches from manicured nails. . . . Clarke tells a violently beautiful story of the magic girls make together, whom it threatens and whom it attracts. . . . I loved everything about this book, from the hot, suturing needle of Clarke's prose to the broken-glass grind of Sideways's voice. Clarke's girls are glittering and terrifying, in love with one another and in opposition to the world that disdains and desires them. . . . As tender and intimate as it is ferocious and volatile, Scapegracers deserves to be this generation's go-to grimoire. May it launch a thousand covens of angry, loving, brilliant girls." —Amal El-Mohtar in The New York Times Book Review Holiday Books Guide
Erewhon Books, 9781645660002, 400pp.
Publication Date: September 15, 2020
About the Author
August Clarke is here and queer, etc. They have been published in PRISM international, Portland Review, and Eidolon. They were a 2019 Lambda Literary Fellow in Young Adult Fiction and a Locus Award, Dragon Award, and Pushcart nominee. They researched queerness, labor, and monstrosity at the University of Chicago. The Scratch Daughters is the second book in their indie-bestselling series, The Scapegracers, where they write as H. A. Clarke.