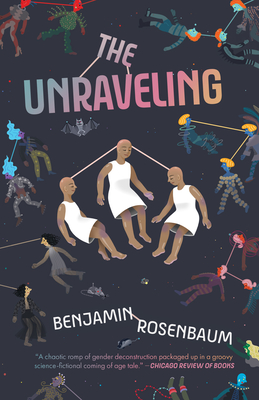 The Unraveling
Hardcover

* Individual store prices may vary.
Other Editions of This Title:
Paperback (1/4/2022)
Description
In a far-future society where biotechnology has revolutionized gender, young Fift must decide whether to conform or carve a new path.
  In the distant future somewhere in the galaxy, a society has emerged where everyone has multiple bodies, cybernetics has abolished privacy, and individual and family success within the rigid social system is reliant upon instantaneous social approbation.  
  Young Fift is an only child of the staid gender, struggling to maintain their position in the system while developing an intriguing friendship with the poorly-publicized bioengineer Shria–somewhat controversial, since Shria is bail-gendered.
 
  In time, Fift and Shria unintentionally wind up at the center of a scandalous art spectacle which turns into the early stages of a multi-layered revolution against their strict societal system. Suddenly they become celebrities and involuntary standard-bearers for the upheaval.
  Fift is torn between the survival of Shria and the success of their family cohort; staying true to their feelings and caving under societal pressure. Whatever Fift decides will make a disproportionately huge impact on the future of the world. What's a young staid to do when the whole world is watching?
Praise For The Unraveling…
Praise for The Ant King and Other Stories:

"Contains invisible cities and playful deconstructions of the form. In "Biographical Notes to 'A Discourse on the Nature of Causality, With Air-Planes,' by Benjamin Rosenbaum"—yes, his name is part of the title—the author imagines a world whose technologies and philosophies differ wildly from ours. The result is a commentary on the state of the art that is itself the state of the art." —Los Angeles Times (Favorite Books of 2008)

"Give him some prizes, like, perhaps, "best first collection" for this book." —Booklist (Starred review, Top 10 SF Books of the Year)

"Featuring outlandish and striking imagery throughout—a woman in love with an elephant, an orange that ruled the world—this collection is a surrealistic wonderland." —Publishers Weekly

"Urbane without being arch, sweet without being maudlin, mysterious without being cryptic."—Cory Doctorow, Boing Boing

"Lively, bizarre, and funny as well as dark, sinister, and sensual." —Boston Phoenix
Erewhon, 9781645660019, 416pp.
Publication Date: May 18, 2021
About the Author
Benjamin Rosenbaum has been nominated for the Hugo, Nebula, BSFA, Sturgeon, and World Fantasy Awards. He is the author of the short story collection The Ant King and Other Stories, and the Jewish historical fantasy tabletop roleplaying game "Dream Apart." Originally from Arlington, VA, he lives near Basel, Switzerland with his wife and children.