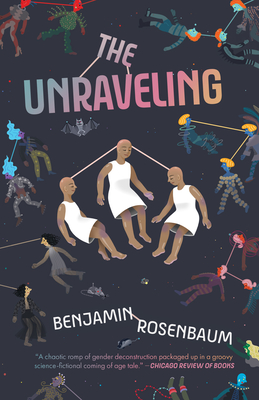 The Unraveling
Hardcover

* Individual store prices may vary.
Other Editions of This Title:
Paperback (6/7/2022)
Description
"A wildly inventive, funny, and ultimately quite heartfelt novel, The Unraveling is a chaotic romp of gender deconstruction packaged up in a groovy science-fictional coming-of-age tale." —Chicago Review of Books

In the far-off future, Fift is a Staid-gendered youth–working towards logic and thoughtfulness–just trying to figure out zir life in the bustling, but rigid social system of Fullbelly. And as if mastering zir three bodies and making zir twelve parents proud weren't enough to handle, Fift's growing relationship with Shria, an at-times emotional and passionate Vail-gendered bioengineer, is a controversy waiting to happen.  

When Fift and Shria wind up at the center of a scandalous art spectacle that sparks off a multilayered Unraveling of society, Fift is torn between zir attraction to Shria and the safety of zir family, between staying true to zir feelings and social compliance . . . all while zir personal crises suddenly take on global  significance. What's a young Staid to do when the whole world is watching?

In his intricate and thoughtful debut novel, Benjamin Rosenbaum brings warmth, heart, and humor to this story of growing up in the distant future, interrogates exactly who a utopia is for, and how social structures only change when everyone has a voice. Like Chana Porter's The Seep and Monica Byrne's The Actual Star, Benjamin Rosenbaum's The Unraveling is the latest in a line of science fiction that challenges gender, society, and culture, while showcasing an inclusive, expansive, and creative vision of what the future can be.  
Praise For The Unraveling…
★ "This beautifully written debut is a thorough, well-realized picture of a world with a radically different concept of gender and the body that nonetheless has its own forms of oppression. Rosenbaum's novel is essential reading for anyone interested not only in speculative fiction that plays with gender norms, but also in quality SF in general. Highly recommended." —Booklist, starred review

"[A] complex meditation on fame, taboo, gender, and social control . . . as mind-bending as it is satisfying."—Publishers Weekly

An immersive future history, The Unraveling is a fantastic adventure that is also a story about the love that binds us to each other—and to the galaxy itself. Rosenbaum's writing is wonderfully complex and whimsical, but most of all it is humane. No matter how alien his characters and worlds, they feel like kin." —Annalee Newitz, Hugo and Lambda Award-winning author of Autonomous

"I hope a ton of people read this book, think about it, and talk about it, as this is the book that could launch a hundred think pieces and a thousand imitators . . . I truly feel like The Unraveling is a reinvention of new directions stories can go when playing with science fiction's favorite questions: What If? Why Not?" —Little Red Reviewer

 "The wonders of this novel are best revealed by reading it. . . .I was surprised again and again." —Rich Horton, editor of Locus

Praise for The Ant King and Other Stories:
"Give him some prizes, like, perhaps, "best first collection" for this book." —Booklist (Starred review, Top 10 SF Books of the Year)

"Featuring outlandish and striking imagery throughout . . . this collection is a surrealistic wonderland." —Publishers Weekly

"Urbane without being arch, sweet without being maudlin, mysterious without being cryptic."—Cory Doctorow, author of Boing Boing

"Lively, bizarre, and funny as well as dark, sinister, and sensual." —Boston Phoenix

"Contains invisible cities and playful deconstructions of the form. In "Biographical Notes to 'A Discourse on the Nature of Causality, With Air-Planes,' by Benjamin Rosenbaum"—yes, his name is part of the title—the author imagines a world whose technologies and philosophies differ wildly from ours. The result is a commentary on the state of the art that is itself the state of the art." —Los Angeles Times (Favorite Books of 2008)
Erewhon, 9781645660019, 416pp.
Publication Date: June 8, 2021
About the Author
Benjamin Rosenbaum has been nominated for the Hugo, Nebula, BSFA, Sturgeon, and World Fantasy Awards. He is the author of the short story collection The Ant King and Other Stories and the Jewish historical fantasy tabletop roleplaying game "Dream Apart." Originally from Arlington, VA, he lives near Basel, Switzerland with his wife and children.