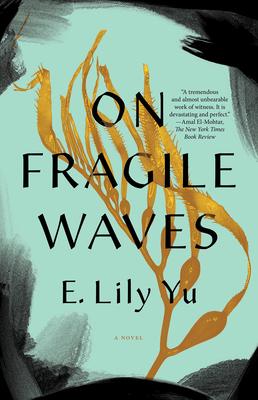 On Fragile Waves
Hardcover

* Individual store prices may vary.
Other Editions of This Title:
Paperback (2/1/2022)
Description
The haunting story of a family of dreamers and tale-tellers looking for home in an unwelcoming world. This exquisite and unusual magic realist debut, told in intensely lyrical prose by an award winning author, traces one girl's migration from war to peace, loss to loss, home to home.

Firuzeh and her brother Nour are children of fire, born in an Afghanistan fractured by war. When their parents, their Atay and Abay, decide to leave, they spin fairy tales of their destination, the mythical land and opportunities of Australia.

As the family journeys from Pakistan to Indonesia to Nauru, heading toward a hope of home, they must rely on fragile and temporary shelters, strangers both mercenary and kind, and friends who vanish as quickly as they're found.

When they arrive in Australia, what seemed like a stable shore gives way to treacherous currents. Neighbors, classmates, and the government seek their own ends, indifferent to the family's fate. For Firuzeh, her fantasy worlds provide some relief, but as her family and home splinter, she must surface from  these imaginings and find a new way.
Praise For On Fragile Waves…
"An incredibly accomplished debut novel, a necessary and important tale of empathy and imagination and hope." —Matt Bell, author of Appleseed

"E. Lily Yu's finely honed prose and her child narrator allow for flashes of warmth and beauty between the shocks and sorrows, the terrors and humiliations." —Margo Lanagan, author of Tender Morsels

"Vivid, intense and heart-wrenching. On Fragile Waves is both a coming-of-age tale and an unflinching meditation on exile, belonging, fragility and hope." —Victoria Law, co-author of Prison By Any Other Name 

"A heartbreaking celebration of the necessity of joy. A soul-searing tale of homecoming, home-becoming, home-conjuring. By holding up the jagged beauty of faith against despair, E. Lily Yu is the brilliant voice of conscience our age needs." —Ken Liu, author of The Paper Menagerie and The Grace of Kings

"On Fragile Waves confirms that E. Lily Yu is a prodigy. Every line a gemstone, every page a calligram." — Usman T. Malik, author of Midnight Doorways: Fables from Pakistan

"A stunning heartbreaker. The prose is as sharp and beautiful as the story it tells . . . bringing into painful beautiful focus all the ways the world is horrible, and all the ways the world is magic." —Sam J. Miller, Nebula-Award-winning author of Blackfish City and The Art of Starving
Erewhon, 9781645660095, 288pp.
Publication Date: February 2, 2021
About the Author
E. Lily Yu received the Artist Trust / LaSalle Storyteller Award in 2017 and the Astounding Award for Best New Writer in 2012. Her stories appear in venues from McSweeney's to Tor.com and in eleven best-of-the-year anthologies, and have been finalists for the Hugo, Nebula, Locus, Sturgeon, and World Fantasy Awards. She has lived on both coasts and holds degrees from Princeton and Cornell. This is her first novel.