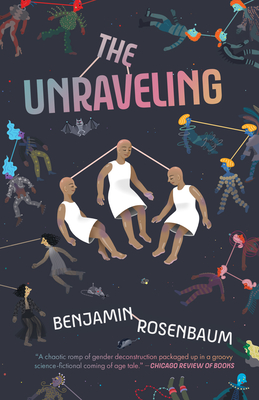 The Unraveling
Paperback

* Individual store prices may vary.
Other Editions of This Title:
Hardcover (6/8/2021)
Description
In a society where biotechnology has revolutionized gender, young Fift must decide whether to conform or carve a new path.

In the distant future, somewhere in the galaxy, a Staid-gendered youth with three bodies is just trying to figure life out. Fift is struggling to maintain zir position in Fullbelly's rigid social system, which is only made more difficult as ze develops an intriguing—and controversial— friendship with the acclaimed Vail-gendered bioengineer Shria.

When Fift and Shria wind up at the center of a scandalous art spectacle that precipitates a multilayered Unraveling of society,.  Fift is torn between zir attraction to Shria and the safety of zir family, between staying true to zir feelings and social compliance . . . all while zir personal crises suddenly take on global  significance. What's a young Staid to do when the whole world is watching?
Praise For The Unraveling…
★ "This beautifully written debut is a thorough, well-realized picture of a world with a radically different concept of gender and the body that nonetheless has its own forms of oppression. Rosenbaum's novel is essential reading for anyone interested not only in speculative fiction that plays with gender norms, but also in quality SF in general. Highly recommended." —Booklist, starred review

"[A] complex meditation on fame, taboo, gender, and social control . . . as mind-bending as it is satisfying."—Publishers Weekly

"A wildly inventive, funny, and ultimately quite heartfelt novel, The Unraveling is a chaotic romp of gender deconstruction packaged up in a groovy science-fictional coming-of-age tale." —Chicago Review of Books

"A stunning far-future tale of what families might look like in a world where networking technology allows people to live in several bodies at the same time." —Science Friday

"An immersive future history, The Unraveling is a fantastic adventure that is also a story about the love that binds us to each other—and to the galaxy itself. Rosenbaum's writing is wonderfully complex and whimsical, but most of all it is humane. No matter how alien his characters and worlds, they feel like kin." —Annalee Newitz, author of Autonomous

"I hope a ton of people read this book, think about it, and talk about it, as this is the book that could launch a hundred think pieces and a thousand imitators . . . I truly feel like The Unraveling is a reinvention of new directions stories can go when playing with science fiction's favorite questions: What If? Why Not?" —Little Red Reviewer

"The wonders of this novel are best revealed by reading it. . . . I was surprised again and again." —Rich Horton, editor of Locus
Erewhon Books, 9781645660309, 416pp.
Publication Date: June 7, 2022
About the Author
Benjamin Rosenbaum has been nominated for the Hugo, Nebula, BSFA, Sturgeon, and World Fantasy Awards. He is the author of the short story collection The Ant King and Other Stories and the Jewish historical fantasy tabletop roleplaying game "Dream Apart." Originally from Arlington, VA, he lives near Basel, Switzerland with his wife and children.