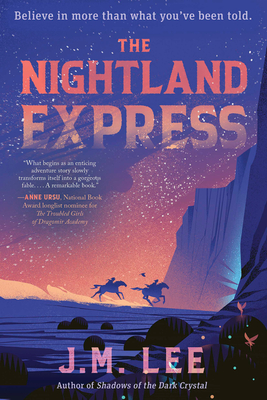 The Nightland Express
Paperback

* Individual store prices may vary.
Other Editions of This Title:
Hardcover (10/11/2022)
Description
In antebellum America, two teens bury their secrets and join the historic Pony Express, soon discovering that the mortal world is not the only one on the brink of war.

When bright, brash Jessamine Murphy finds a recruitment poster for the Pony Express, her tomboy heart skips a beat: not only for adventure, but for the chance to track down her wayward father in California. Eager to reunite her fractured family, Jessamine cuts her hair, dons a pair of trousers, and steps into the world as Jesse.

With a bit of trickery, Jesse wins a special assignment—as does Ben Foley, a quiet but determined boy who guards secrets as closely as Jesse does. The two are to transport unusual cargo along an unusual route: the Nightland Express. They ride west together, one excitedly navigating the world as a boy, the other passing as white to escape the monsters from his past.

Ben and Jesse soon realize their assignment is special in more ways than one: their tireless horses cover ground faster than should be possible, and inhuman creatures watch their journey from the darkness. The Nightland Express is more than a mail route—it traces the border between the mortal world and a vibrant, magical land just beyond.

As both realms hover on the precipice of disaster, Jesse and Ben must learn to fully trust one another before a catastrophic rift separates the two worlds—and the two riders—forever.
Praise For The Nightland Express…
"Vibrant, lush, and clever . . . The journey across the Old West—and beyond—lets readers ask timeless questions about identity and destiny, and J.M. Lee answers them with kindness, hope, and a touch of magic." —Amanda Hocking, New York Times–bestselling author of the Trylle series

"Jesse and Ben's journey as Pony Express riders is thrilling, but their voyages of self—ones that defy maps, road markers, and what society would have them be—make the The Nightland Express truly shine. Make no mistake, there is no fool's gold to be found here: The Nightland Express is a poignant, gripping novel." —Lillie Lainoff, author of Junior Library Guild selection One For All

"With sparkling prose, a rich historical setting, and characters both enchanted and enchanting, The Nightland Express is a cleverly entertaining take on the Old West. The seamless integration of history and magic is enriched by an elegant, multifaceted commentary on identity and culture." —Jodie Lynn Zdrok, author of Spectacle and Sensational

"Set your heart to believe in this tension-filled, fast-paced, and ultimately hopeful story." —H. M. Bouwman, author of Minnesota Book Awards finalist A Crack in the Sea

"A magical tale filled with heart and spirit as it explores themes of identity and belonging."  —Aamna Qureshi, IPBA award–winning author of The Lady or the Lion
Erewhon, 9781645660316, 368pp.
Publication Date: October 10, 2023
About the Author
J.M. Lee spent his formative years searching for talking animals and believing he could control the weather. After pursuing nerdy interests in comparative film studies, screenwriting, and Shakespeare, he graduated with a much nerdier degree in linguistics. In addition to writing novels, he enjoys mentoring young writers, teaching his dog new vocabulary words, and updating his snooty coffee blog.