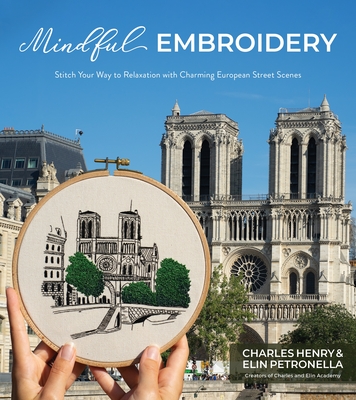 Mindful Embroidery
Stitch Your Way to Relaxation with Charming European Street Scenes
Paperback

* Individual store prices may vary.
Description
Embroider Your Stress Away

Escape the chaos of everyday life by embroidering yourself a romantic and tranquil getaway. Allow Charles Henry and Elin Petronella to whisk you away to the calming villas of the French countryside. Discover the hidden gems of Paris, stroll down the colorful tiled streets of Lisbon or float along the canals of Venice. Let go of your worries stitch by stitch through these 20 delightful European scenescapes inspired by Charles and Elin's favorite places throughout Europe. Beginners can confidently complete any design in this book using five common and simple embroidery stitches. As leaders in the modern hand embroidery movement, Charles and Elin invite you to let go of perfectionism and instead slow down, unwind and enjoy the meditative process of creating something gorgeous one stitch, and breath, at a time.

**Printed with Premium Lay Flat Binding—Stays Open Hands-Free!**
Praise For Mindful Embroidery: Stitch Your Way to Relaxation with Charming European Street Scenes…
"Hand embroidery teachers Henry and Petronella combine traveling with crafting in their charming book of designs. Encouraging embroidering as 'an ancient form of mindfulness' that makes 'worries and anxious thoughts' disappear, the authors lay out designs based on locales throughout Europe. Instruction for each design is articulate and supported by close-up photos. Beginning or advanced embroiderers will find much to enjoy and create here as they armchair-travel with thread."
—Publisher's Weekly

"I will never forget the first time I saw Elin and Charles' work and said, 'Wow! I have to try this embroidery thing immediately.' It's an honor to recommend their amazing work and this book, as I know it will make everyone fall in love with hand embroidery, too."
—Sila Gur, embroidery artist, @jolly_hoops

"Elin and Charles' passion for embroidery and their love to inspire new generations to pick up a needle and thread shines through in this book."
—Abi Skinner, designer, DMC
Page Street Publishing, 9781645670520, 160pp.
Publication Date: September 1, 2020
About the Author
Charles Henry & Elin Petronella are the young, French/ Swedish artist couple taking the modern hand embroidery movement by storm. They have gathered a huge embroidery community online through their Instagram accounts @petronella.art and @_charleshenry_. They teach embroidery classes online and in person through the Charles and Elin Academy. They also run the Charles and Elin YouTube channel and podcast, where they offer advice to fellow creatives. Charles and Elin have been featured in Martha Stewart Living, My Modern Met and more.