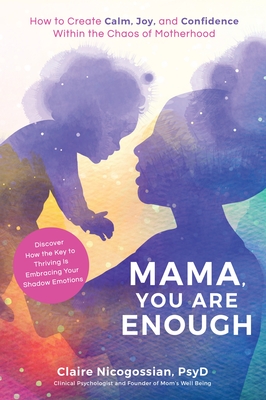 Mama, You Are Enough
How to Create Calm, Joy, and Confidence Within the Chaos of Motherhood
Paperback

* Individual store prices may vary.
Description
An Honest and Revolutionary Guide to the Emotions Moms Feel But Seldom Talk About

A few years ago, Dr. Claire Nicogossian began noticing a trend in her therapy room: Mothers are struggling with the challenging and unexpected emotions that surface during their journey through motherhood. In the confines of a safe, judgment-free space, they share about the heavy guilt they carry from losing control and yelling at their children; the crippling fear that they are failing their families; and the exhaustion of juggling work, home, and family. Dr. Claire calls these our shadow emotions. While varying in intensity, our shadow emotions take some form of sadness, anger, fear, embarrassment, or disgust, often a combination. In this breakthrough book, Dr. Claire sheds light on these shadow emotions and provides a path to thriving joy, inner calm, and radiant confidence.

Drawing upon her own experiences of raising four children and many years of counseling mothers as a clinical psychologist, Dr. Claire shares practical tips, strategies, and encouragement to help women in all stages of motherhood. By creating new language for the feelings moms experience but seldom talk about—inspired by the groundbreaking work of Carl Jung—this book has the power to create a radical shift in the way we understand and navigate modern motherhood. With Dr. Claire's guidance, mothers everywhere will discover the deep joy, fulfillment, and inner peace that are already within their reach.
Praise For Mama, You Are Enough: How to Create Calm, Joy, and Confidence Within the Chaos of Motherhood…
"Being a mom is hard—and most books just set the bar even higher! Instead of giving you yet another long list of ways you could be better at it, Mama, You Are Enough shares the real secrets to thriving as a parent—learning how to manage your emotions and show yourself deep compassion. This is essential reading for all moms. It took me decades to learn the advice I read in just the first chapter!"
—Carley Roney, Founder, The Bump

"Mothers around the world are standing up to say, "This needs to get better"—Claire's book is their rallying cry. It is beautifully written, thoughtfully crafted, genuine, and oh-so-needed. Claire's expertise and gentle guidance combine into a true gift for mothers. This book will change lives."
—Diana Spalding, Digital Education Editor at Motherly (mother.ly), Certified Midwife, Pediatric Nurse

"Mama, You Are Enough provides the support and encouragement that every mother in the world needs. I recommend this book to every mom I know. Motherhood will always have its challenges, but Dr. Claire's insights, compassion and wisdom remind us that we don't have to go through them alone."
—Arianna Huffington, Founder & CEO, Thrive Global

"As a new mom, one of the most challenging things is managing intense and seemingly conflicting emotions. In Mama, You Are Enough, Dr. Claire Nicogossian reminds us that these emotions are normal and okay. Whether we're feeling weepy and sad, exhausted and inexplicably angry, or downright giddy with joy, we are enough—for our kids and for ourselves. Nicogossian gives us the permission we didn't know we needed to feel all these emotions so that we can embrace the experience of motherhood with a full and open heart."
—Christine Organ, Associate Editor at Scary Mommy

"A gorgeous and important book. By turns practical and inspiring, with exercises throughout, Mama, You Are Enough embraces a powerful, healing truth: it's impossible for mothers to to feel confident and caring all the time; accepting that with compassion is not only comforting, it's also the key to being a more confident caring mother.
—Dr. Craig Malkin, Clinical Psychologist, Lecturer Harvard Medical School, author of the internationally acclaimed book Rethinking Narcissism
Page Street Publishing, 9781645670698, 336pp.
Publication Date: June 23, 2020
About the Author
Claire Nicogossian, PsyD, is a licensed clinical psychologist and a clinical instructor of psychiatry and human behavior at Brown University. She's the founder of MomsWellBeing.com, where you can find her writing, and the podcast In-Session with Dr. Claire. Her writing has appeared on Motherly, Scary Mommy, Thrive Global, TODAY Parenting Team, and HuffPost. Dr. Claire lives in Rhode Island with her husband and four daughters.
or
Not Currently Available for Direct Purchase