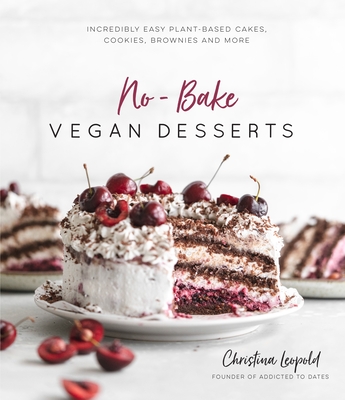 No-Bake Vegan Desserts
Incredibly Easy Plant-Based Cakes, Cookies, Brownies and More
Paperback

* Individual store prices may vary.
Description
Make Decadent Treats without Ever Turning on the Oven

In this incredible collection of delectable plant-based sweets, Christina Leopold, founder and recipe developer behind the blog Addicted to Dates, walks you through her easy-to-follow no-bake method for preparing all of your favorite vegan treats. Make everything from three-tier cakes and glazed donuts to filled cupcakes and fudgy brownies all without greasing a pan, preparing a cooling rack or pre-heating your oven! With Christina's genius combinations of plant-based ingredients, you'll yield perfect textures and flavors in every recipe. Fall in love with the delicate crunch of her roasted buckwheat piecrust or the creamy richness of her cashew and coconut milk cheesecake base.

These heavenly goodies are naturally sweetened with dates, maple syrup and coconut sugar and most are gluten-free to boot. You won't believe you're eating cleaner with recipes like:
• Creamy Pistachio Tart
• Dark Chocolate–Earl Grey Tart with Blackberry Coulis
• Snickerz Chocolate Bars
• Cherry Bomb Cheezecake
• Peanut Butter and Jelly Cheezecake
• Triple Chocolate Brownies
• White Chocolate, Macadamia and Pistachio Cookies
• Banoffee Cupcakes
• Salted Caramel Donuts
• Cardamom, Vanilla and Clementine Crème Brûlée
• Dark Chocolate with Maca and Sea Salt

Whether you're vegan or simply want to try something new, you'll be amazed at what delicious treats you can bake without baking at all!
Praise For No-Bake Vegan Desserts: Incredibly Easy Plant-Based Cakes, Cookies, Brownies and More…
"Someone pinch me, I think I've made it to dessert heaven! The creativity of these desserts makes me want to live in the kitchen."
—Sadia Badiei, YouTube personality and founder of Pick Up Limes

"The queen of vegan desserts has done it again! This is such an amazing resource for every sweet treat enthusiast—vegan or not, these desserts are incredible!"
—Kirsten Kaminski, author of Vegan Holiday Cooking and founder of The Tasty K blog

"I am in love with Christina's plant-based creations! She is a wizard in the kitchen and a passionate foodie who has a big heart for animals. Christina's sweet treats are mouth-watering and her photography is just beautiful."
—Michaela Vais, founder of elavegan.com

"Christina makes really beautiful desserts and really understands the fundamentals of vegan desserts—this book is brilliant."
—The Happy Pear, bestselling authors of Vegan Cooking for Everyone

"Baking is a difficult art form, and vegan baking, even more difficult! But Christina's No-Bake Vegan Desserts proves that you can enjoy delightful plant-based desserts without doing any of that risky baking. Whether you want to throw back to your childhood with an indulgent Snickers bar or steal the show with a cookie dough cheesecake, there's something delicious (and wholesome) for you in this book."
—Nisha Vora, blogger at Rainbow Plant Life and author of The Vegan Instant Pot Cookbook

"What I've seen Christina do with simple ingredients is incredible. With her stunning photos and easy to follow recipes, she has created a must have book for those that have a passion for delicious treats and photography. I've always admired how passionate and talented she is. This book will complement your current stash of cookbooks and will excite you to make delicious, healthy and magical raw treats."
—Sarah Kermalli, blogger at Sculpted Kitchen

"An amazing cookbook filled with nostalgic favorites, but with a vegan spin. This book is an incredible resource for anyone looking to learn how to make mouthwatering vegan recipes."
—Kip Andersen, award-winning director of Cowspiracy and What the Health?

"A must have for every kitchen, vegan or not! Christina brings recipes to life in a way that I haven't seen before, and I'm so excited for you to make your way through this book."
—DJ Tigerlily, DJ, producer and wellness enthusiast

"Christina is an incredible creator. Her no-bake vegan recipes are not only healthy and delicious, they are a piece of art. We love recreating Christina's easy to follow recipes at home, and they're always a crowd pleaser when entertaining. If you like sweets, treat yourself with a little less guilt as Christina's innovative no-bake recipes are a healthier choice that your taste buds won't even realize you're making."
—Jake McKeon, founder and director of Coconut Bowls
Page Street Publishing, 9781645671183, 168pp.
Publication Date: November 10, 2020
About the Author
Christina Leopold is the founder of the vegan desserts blog Addicted to Dates. She has been featured on the feedfeed, in Vegan Food & Living and Thrive magazine. She lives in Dublin, Ireland.
or
Not Currently Available for Direct Purchase