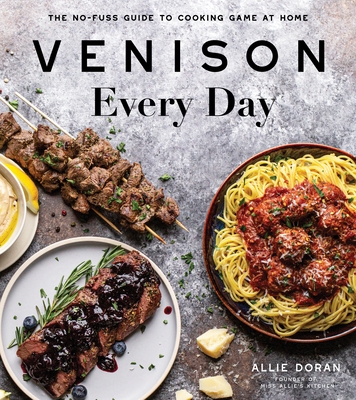 Venison Every Day
The No-Fuss Guide to Cooking Game at Home
Paperback

* Individual store prices may vary.
Description
Get the Most Bang for for Your Buck

Step up your venison cooking game with fresh field-to-table recipes that make the most of your whole harvest from shoulder to shank. Venison cooking is for everyone, and Allie Doran, creator of Miss Allie's Kitchen, shows you how to make sure every meal you make is as tender, flavorful and easy as possible, from the Easiest Black Pepper Jerky to Red Wine–Braised Short Ribs with Herb Gremolata. In this recipe collection, you'll learn all the skills you need to start cooking the best game meals of your life beyond basic stewing. Break down sinewy sirloin with tenderizing marinades, use the fat in neck meat to make mouthwatering barbacoa or even cube up tough flank meat for tacos and kebabs. Soon you'll find there's no such thing as a bad cut of meat when you're cooking it right!

Even less experienced cooks can get superior quality meals—with helpful sections on field dressing your deer and suggestions for which cuts to use for every dish. In no time at all, you can break out a Wild Game Charcuterie Board for a party, level up your brunch with Southern-Style Sausage Gravy or have a date night in with the impressive Roasted Whole Tenderloin with Peppercorns. Full of hearty recipes for every cut of meat and every occasion, Venison Every Day will never leave you wondering what to do with a freezer full of deer again.
Praise For Venison Every Day: The No-Fuss Guide to Cooking Game at Home…
"Allie's new cookbook is just what all of us in the outdoor world have been waiting for! It's so great to see a field-to-table cookbook that has such a beautiful presentation plus incredible recipes."
—Eva Shockey, author of Taking Aim and founder of evashockey.com

"Allie really takes cooking with wild game to a whole new level."
—Ashley Waterhouse, founder of Fit Mitten Kitchen

"From looking at Allie's delicious venison recipes, there's no doubt she knows her way around the kitchen. She gives unique, comforting, delicious meals that will fill your home with happy faces and full stomachs. Venison Every Day is a keeper!"
—Stacy Lyn Harris, author of Harvest Cookbook

"This stunning cookbook proves how approachable, simple and incredibly delicious venison can be. If you're clueless when it comes to cooking venison or are just looking for a fresh, modern approach to wild game preparation, this book is an absolute must have."
—Emilie Bailey, founder of Tales of a Texas Granola Girl and author of The Southern Keto Cookbook

"Throw out your recipes that are aimed at covering up the natural taste of wild game. Allie Doran represents a new, exciting breed of game cook who fully understands what it takes to make venison, and any other game meats, appeal to contemporary palates using fresh, seasonal and locally sourced ingredients."
—Scott Leysath, host of The Sporting Chef and Dead Meat TV shows on Sportsman Channel, cookbook author, columnist
Page Street Publishing, 9781645671244, 160pp.
Publication Date: September 1, 2020
About the Author
Allie Doran is a recipe developer and food photographer and the founder of Miss Allie's Kitchen, a food blog specializing in wild game recipes. Her recipes have been featured online in North American Whitetail magazine, BuzzFeed, HuffPost and The FeedFeed. Allie lives in Pottsville, Pennsylvania.