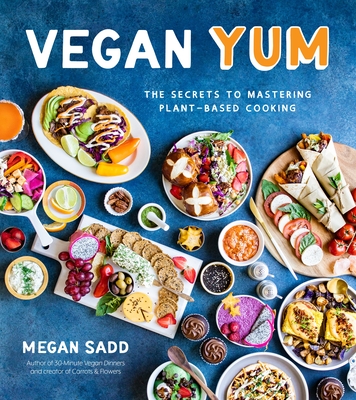 Vegan YUM
The Secrets to Mastering Plant-Based Cooking
Paperback

* Individual store prices may vary.
Description
75 Vegan Recipes That Will Blow Your Mind

Megan Sadd has spent nearly her entire life studying plant-based cuisine to discover the best, most satisfying and delicious ways of cooking vegan food. In this cookbook, she shares all of her secrets. We've got comfort foods—hello Crispy Southern Chickpea Sandwiches and Meat Lover's BBQ Pulled Jackfruit with Avocado Slaw. We've got masterpieces, like Spring Linguine with King Oyster Scallops, where every bite will have you saying, "Yuuumm!" And best of all, a whole chapter is dedicated to Megan's signature cheeses and meals stuffed with ooey-gooey cheesy goodness. Just wait till you try her Smoky Gouda Melt, Pesto Mac 'n' Cheese or Roasted Vegetable Romanesco Lasagna—you'll think you've died and gone to foodie heaven.

Besides a huge variety of weeknight-friendly meals and Megan's stunning photography with every recipe, each chapter begins with beautiful illustrated reference pages to help you master plant-based cooking. This is more than a great recipe book. It's an inspiring and instructive ode to flavor that will revolutionize the way you cook.
Praise For Vegan YUM: The Secrets to Mastering Plant-Based Cooking…
"Megan's passion for plantbased cuisine is rivaled only by her extensive culinary skills and ability to create simple, delicious recipes for all levels of home cooks."
—Matthew Kenney, celebrity chef, global restaurateur and author of Plantlab and Plant Food

"Megan Sadd has outdone herself with these bright and bold recipes, even breaking down the basics of cooking so that you understand why the recipes are so delicious."
—Jackie Sobon, bestselling author of Vegan Yack Attack's Plant-Based Meal Prep and VegNews columnist

"Megan's Vegan YUM delivers dynamic, mouthwatering recipes that are sure to satisfy every craving!"
—Kip Andersen, award-winning director of Cowspiracy and What the Health

"A wonderful guide to plant-based cooking. With its straight-forward recipes and instructive illustrations, Vegan Yum reveals just how simple transforming our health can be, without sacrificing the flavors we know and love."
—Eric Adams, Brooklyn Borough President and author of Healthy at Last

"Megan is a vegan recipe genius! Her plant-based creations are both a feast for your eyes and your belly. From reimagining classic comfort foods to creative twists on everyday eats, Megan's simple approach to a plant-forward way of life is an inspiration for all food lovers!"
—Bella Karragiannidis, founder of the award-winning blog Ful-filled.com

"Whether you're an experienced home cook or just beginning your plant-based journey, Vegan Yum is a must-have! This book focuses on flavor and culinary technique, breaking down the elements of plant-based cooking in a way that will appeal to everyone who loves delicious food."
—Rachel Bennett, James Beard Award nominee and Executive Chef of The Library

"Vegan Yum makes vegan eating fun and colorful! This cookbook is not only a great resource for vegans, but the perfect tool for those interested in incorporating more plant-based meals into their diet as well. Megan Sadd breaks down recipes into easy-to-digest steps and educates the reader on plant-based cooking basics. As more people transition to a vegan diet, Vegan Yum is a must-have in the kitchen."
—Maggie Ortlieb, founder of VegOut magazine

"Megan Sadd's cooking is flawless and fun! She whips up superfoods that taste like comfort foods. She will guide you to plant-based goodness and explain why it's the best choice for you and your family!"
—Jane Velez Mitchell, Emmy-award-winning journalist, host of New Day, New Chef on Amazon Prime and founder of JaneUnchained News

"As someone who's missed cheese for over 5 years, it's amazing to be able to make an even-better version now! For those that are plant-based or just curious, you'll fall in love with food like never before."
—Loui Blake, plant-based restaurateur and founder of Erpingham House, the UK's largest vegan restaurant

"This book shows you how simple and delicious vegan food can be! With a kaleidoscope of colorful ingredients, these recipes are a journey into what it really means to be plant based. Megan puts her heart and soul into every recipe, and we are confident you'll love Megan and her cooking as much as we do!"
—The Vegan View

"Whether it's your first vegan cookbook or your hundredth, I'm sure you'll find plenty of reasons to keep this one on your kitchen counter for a long time."
—Prince Khaled Bin Alaweed, founder and CEO of KW Ventures, a plant-based and environmental venture capitalist firm

"Vegan Yum is the next addition to the already masterful repertoire of Megan Sadd! I've been blessed to be her friend and fellow vegan chef, devouring her Tres Leches Cake—my personal favorite and a crowd favorite—on many occasions. This life-changing recipe and many new and exciting recipes are featured in this book, so it will surely bring loads of joy to any and every household it reaches!"
—Charles Fyffe, founder and CEO of Charlie's Brownies and VeganAF Events

"Vegan Yum is fun, creative and approachable, regardless of where you are in your food journey. As a guy that doesn't have the mental fortitude to spend hours on cooking, Megan's recipes are the perfect combination of simple and quick, while also being mind-blowingly delicious. I get all the comforting textures and flavors I want, while eating foods that fuel my pursuits rather than bog me down."
—Pat McCauley, founder of Plant Pub and Eat Green Make Green
Page Street Publishing, 9781645671268, 176pp.
Publication Date: December 15, 2020
About the Author
Megan Sadd is a plant-based chef and the author of 30-Minute Vegan Dinners. She's also the founder of Carrots & Flowers, one of the top vegan cooking pages on Facebook. She's been featured by Forbes, Washington Post, Women's Health, Thrive magazine and many more. She lives in Los Angeles.