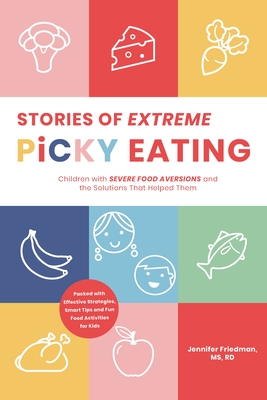 Stories of Extreme Picky Eating
Children with Severe Food Aversions and the Solutions That Helped Them
Paperback

* Individual store prices may vary.
Description
Discover the Strategies That Helped the Most Extreme Picky Eaters and That Can Help Your Picky Eater, Too

"Is this normal picky eating stuff, or is there more going on here?" It's a question many parents worry about, and the same question one mom asked Jennifer Friedman in a session about her son Ryder, who struggled to eat more than chicken nuggets and french fries. In Stories of Extreme Picky Eating, Jennifer invites you into her nutritional therapy office to meet real kids struggling with serious food aversions, and learn the strategies that helped them come to eat a wider variety of nutritious foods with more ease.

You'll meet Jackson, an eight-year-old whose diet used to consist entirely of packaged fruit and veggie puree pouches, milk and crackers. You'll meet Ruby, a bright and bubbly seven-year-old, who ate little more than sugar-laden baked goods and packaged snacks, and who struggled with an extremely sensitive gag reflex. And you'll meet five more children whose stories are as fascinating to read as they are enlightening to reveal the root causes of picky eating.

Backed by cutting-edge research—and including kid-friendly activities and intervention plans—this book will help you understand the complex issues that drive children's picky eating habits, and implement key strategies that can set them on the path to enjoying a more diverse, nutritious diet.
Praise For Stories of Extreme Picky Eating: Children with Severe Food Aversions and the Solutions That Helped Them…
"Jennifer's book offers insight into the very real challenges of feeding picky eaters—and simple and fun ways parents can help improve the situation at home. This is a must-read if you've ever felt stressed and confused about what your child eats . . . or doesn't eat."
—Amy Palanjian, creator of Yummy Toddler Food, author of Busy Little Hands: Food Play!

"Jennifer has a way of bringing these stories to life and making each step she takes with her clients so real and approachable. This is a great book for both parents and professionals working with an extreme picky eater."
—Jessica Gust, MS, RDN, kids dietician, creator of Element Nutrition

"Jennifer's book provides a fresh and in-depth account of the challenges faced by picky eaters and their families, as well as practical tips and guidance on how we can overcome these challenges. A must-read for anyone with a picky eater!"
—Simone Ward, @ZaynesPlate

"Jennifer's book, in addition to her online resources, safely and effectively educates and equips parents to tackle picky eating. She is practical & relatable. Quite simply, she really gets it. And because she truly understands, her resources really have the power to prompt meaningful change."
—Hillary Lewis, MD, Pediatricians of Dallas

"Jennifer's book is a case-by-case analysis of the variations of extreme picky eating in children. She shares her professional insight as a registered dietician into the feeding relationship between parent and child and offers practical advice to help the entire family return to happier mealtimes."
—Melanie Potock, MA, CCC-SLP, author of Adventures in Veggieland: Help Your Kids Learn to Love Vegetables with 100 Easy Activities and Recipes
Page Street Publishing, 9781645671923, 256pp.
Publication Date: September 29, 2020
About the Author
Jennifer Friedman, MS, RD, is a registered dietician who specializes in supporting extreme picky eaters and their families. Known for her playful and practical approach, Jennifer is a leading resource for tips and advice about picky eating through her website, JennyFriedmanNutrition.com, and on social media. She lives in Philadelphia, Pennsylvania.
or
Not Currently Available for Direct Purchase