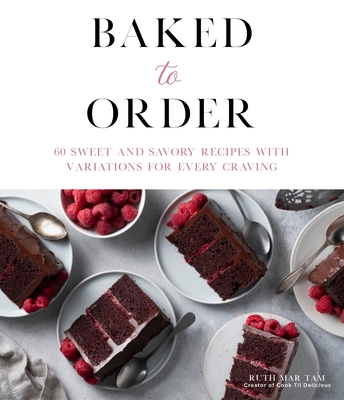 Baked to Order
60 Sweet and Savory Recipes with Variations for Every Craving
Paperback

* Individual store prices may vary.
Description
Standout Baked Goods that Prove Variety Is the Spice of Life

It's never been easier to find the perfect recipe for every mood than with this outstanding collection of sweet and savory treats. Ruth Mar Tam shares 60 of her favorite recipes—each with a number of variations and flavor combinations, so you can tweak them to suit any craving. While each of her recipes is delicious in its original form, the variations she offers make it easy to mix up a recipe based on ingredients you happen to have on hand or simply cater to your own personal preferences.

Once you've mastered Ruth's mouthwatering Spiced Coffee Crumb Cake, give it a fruity twist with her Apple-Rye variation, or make it nutty with the addition of a Nut Streusel. Or maybe you love the Tomato and Ricotta Galette as a light lunch, but you need something a little sweeter to serve at the end of a meal—in that case, try out the Plum and Honey Frangipane variation for a crowd-pleasing dessert.

With sweet treats like Rhubarb and Walnut Linzer Cookies, Earl Grey Bundt Cake and Strawberry Palmiers, and savory options like Smoked Paprika and Cheddar Gougères, Nearly Naked Sourdough Focaccia and Mushroom Diamond Pastries, Ruth's recipes offer you all the options you need for unique, creative, and—most importantly—delicious baking.
Praise For Baked to Order: 60 Sweet and Savory Recipes with Variations for Every Craving…
"Time and again Ruth has inspired me with her decadent baked goods and riffs on nostalgic classics. Her recipes are trustworthy, easy to follow and approachable. Any baker, from beginner to pro, should pick up a copy of Baked to Order!"
—Julie Resnick, cofounder of feedfeed

"This fantastic book allows me to dive deep into Ruth's meticulous baking. Her tweaks on classics are fun and imaginative and make me want to grab my apron and bake someone happy."
—Joanne Chang, James Beard Award–winning baker and owner of Flour Bakery and Café

"My go-to bread recipes are almost all from Ruth's website, so I can't wait to bake my way through this beautiful book."
—Erin Clarkson, creator of Cloudy Kitchen

"Baked to Order covers all your sweet and savory cravings. The flavor variations on Ruth's tried and tested recipes will keep you coming back to her book again and again, no matter the season or occasion."
—Tessa Huff, author of Layered and creator of Style Sweet

"Ruth's recipes are absolute gold! This cookbook is the perfect compilation of her culinary creativity coupled with her baking expertise. Her recipes are easy to follow and absolutely reliable. I look forward to baking my way through every single recipe!"
—Bella Karragiannidis, creator of Ful-filled and Saveur Blog Award winner

"Ruth's debut book is everything a baker needs. From basics to creative twists on classics, savory to sweet, there's something for everyone. I guarantee you will want to make every recipe in this beautiful book."
—Cynthia Chen McTernan, author of A Common Table and creator of Two Red Bowls

"I have long been a fan of Ruth's baking and writing, and she always inspires me to be creative in my home kitchen. By teaching fundamentals and offering the reader versatility this book is a must have for bakers of all levels. Ruth's book is well balanced with both technique and personal expression, while accompanied by stunning photos."
—Matthew Duffy, chef and professor of baking and pastry arts at Centennial College

"Always so thorough, patient, and passionate about what she makes, Ruth takes you through all the techniques that you need to learn from everyday chocolate chunk cookies to a fancy chocolate raspberry cake to ambitious sourdough breads."
—Fanny Lam, owner of Oh Sweet Day! Bake Shop and author of Oh Sweet Day! A Celebration Cookbook

"Ruth is such a talented and inspiring baker, and I am so excited to get my hands on her new book! I've long admired her passion and skill where using freshly milled flours and whole grains are concerned and consider her to be a true leader in the baking space."
—Shira McDermott, Co-Founder of Flourist Mill and Bakery
Page Street Publishing, 9781645671947, 176pp.
Publication Date: November 17, 2020
About the Author
Ruth Mar Tam is the blogger behind Cook Til Delicious and an editor at feedfeed. She has been featured in print and online publications like Saveur magazine, Reader's Digest and BuzzFeed. She lives in Toronto with her family.