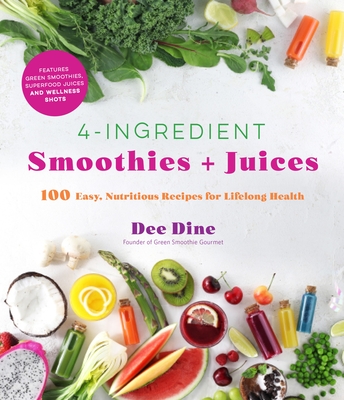 4-Ingredient Smoothies + Juices
100 Easy, Nutritious Recipes for Lifelong Health
Paperback

* Individual store prices may vary.
Description
A Smoothie a Day Keeps the Doctor Away

A better, healthier you is only a few ingredients and a sip away with Green Smoothie Gourmet founder Dee Dine's nutritious array of 100 smoothies, juices and wellness shots! Dee makes creating these wholesome drinks a breeze by limiting your shopping to just 4 ingredients or less and incorporating pantry staples and other items that you already have on hand.

Dee also organizes her drinks into 10 different nutritional benefit categories to better suit your needs. Each smoothie, juice or shot contains ingredients known to boost your energy, increase the fiber or protein in your diet, help you manage your mood, weight or stress levels, or better your brain, sleep, immunity or beauty—and many drinks give more than one nutritional benefit at the same time!

*Get your greens and boost your skin's glow with a sweet Spinach Avocado smoothie
*Fight off colds with a Strawberry-Beet Juice or Orange-Turmeric Shot
*Boost your brain power with a Blackberry-Zucchini Splash smoothie or a Matcha-Mint Shot
*De-stress with a Lavender Lemonade smoothie or pump up your energy with a Pomegranate Frosty
*Get plenty of protein and indulge in a tasty treat at the same time with a Coconut-Chocolate Cream smoothie, Cookie Dough Crumble shake or Peanut Butter S'more smoothie

Or better yet, try them all! With all these incredible recipes to choose from, you'll be sure to find an option that tastes great and provides the nutrients you're looking for. Create positive change in your health and lifestyle by making these nutritional powerhouses a part of your daily diet.
Praise For 4-Ingredient Smoothies + Juices: 100 Easy, Nutritious Recipes for Lifelong Health…
"Filled with creative ideas and easy-to-find ingredients, this book is a great addition to any smoothie aficionado's collection."
—Liz Moody, bestselling author of Healthier Together

"This accessible, user-friendly recipe book makes healthy eating a breeze."
—Taline Gabrielian, creator of Hippie Lane and author of Hippie Lane: The Cookbook

"The bright, creative, nutritious recipes and gorgeous photographs in this book will make anyone fall in love with smoothies. When you open it, you'll want to try everything!"
—Maria Gureeva, creator of Earth of Maria and author of Earthy Vegan Eats

"No matter what your dietary stripes, Dee's super easy recipes will help you make spectacular liquid nutrition for better health."
—Tess Masters, author of The Blender Girl, The Blender Girl Smoothies and The Perfect Blend

"This is the ultimate smoothie and juice recipe book! It features vibrant, immune-boosting recipes to help nourish your healthiest self."
—Zuliya Khawaja, plant-based chef and creator of Naturally Zuzu

"Dee's flavor creativity using whole food ingredients is one of a kind!"
—Caitlin Greene, creator of Star Infinite Food

"Dee makes tasting the rainbow so effortless and delicious with her simple smoothie recipes. Let this cookbook be your smoothie bible!"
—Hannah Sunderani, creator of Two Spoons

"Dee's recipes manage to bring out the very best in ingredients, using whole foods and turning them into colorful juices and smoothies that'll have your mouth watering!"
—Christina Leopold, creator of Addicted to Dates and author of No-Bake Vegan Desserts

"The nutritional content and simplicity of Dee's smoothie and juice recipes make better health attainable for everyone."
—Julia Michelle, nutritionist, naturopath and personal trainer

"This book is a must have for everyone who's interested in nutrient-dense and exciting food."
—Jason Tjon Affo, photographer, stylist and creator of The Indigo Kitchen

"Smoothie queen Dee's book is a must-have for everyone who wants to eat healthy and feel good."
—Tiina Strandberg, creator of My Berry Forest

"These colorful creative smoothies are a simple, quick, tasty and fun way to nourish yourself. Dee has made healthy eating even easier!"
—Izzy Mulkerrins, creator of It's A Healthy Lifestyle

"Simplicity meets immense creativity in this vibrant book filled with every fruit, veggie, fun flavor and creamy combination you could imagine!"
—Natalie Thomas, creator of Feasting on Fruit

"Innovative, unique and delicious. Dee combines myriad flavors and novel ingredients to produce dazzling smoothies like never seen before."
—Nisha Melvani, MS, RD, creator of Cooking for Peanuts
Page Street Publishing, 9781645672296, 192pp.
Publication Date: January 5, 2021
About the Author
Dee Dine is the founder of Green Smoothie Gourmet, where she uses her science and journalism background to create, write about and share nutritious recipes that use few ingredients. She is also a WikiHow nutrition expert, an editor at feedfeed and has been published by BuzzFeed, Mind Body Green, Well + Good, Marie Claire, Hello Glow and more. She lives in the Washington, D.C., area.