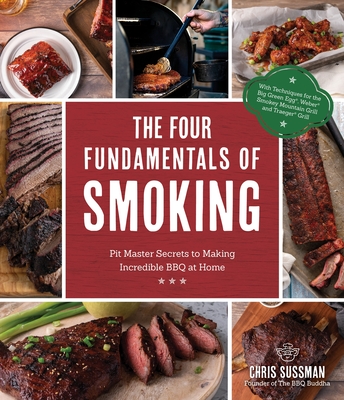 The Four Fundamentals of Smoking
Pit Master Secrets to Making Incredible BBQ at Home
Paperback

* Individual store prices may vary.
Description
The Simplest Way to Cook Better BBQ With Techniques for Traeger®, Weber® and Big Green Egg® Smokers

For many, learning how to cook great BBQ is a journey that spans years and even decades—often including cooking a lot of bad BBQ along the way. Wouldn't it be nice to have a pit master right there in your backyard to coach you through each cook to achieve perfectly tender, juicy meat every single time? Chris Sussman is here to help.

During his own BBQ journey, Chris discovered that four fundamental principles have the most impact on whether the meat comes out tasting succulent, tender and pleasantly smokey, or dry, rubbery and bland. These are 1) building the right fire with the right fuel; 2) controlling humidity to infuse smoke flavor throughout the meat; 3) managing the ideal "BBQ Zone" temperature range on the three most popular brands of smokers and 4) recognizing the visual and touch cues that indicate when the meat is ready to pull from the smoker (hint: it's about way more than cooking to a certain internal temperature). Understand and properly execute the nuances of each step, and you will be able to get the results you want with each cook. Chris will show you how.


Packed with photographs, tutorials, pro tips, helpful reference charts and a complete illustrated tutorial that walks you step by step through a whole packer brisket, this book has the answers to all of your BBQ questions. Chris also shares 50 simple yet unique recipes (and a full-page photograph for each one) to showcase these principles at work in delicious ways. Featured recipes include Bourbon-Glazed Smoked Baby Back Ribs, North Carolina–Style Pulled Pork, Pork Belly Burnt Ends Sichuan-Style, "No Wrap" Smoked Beef Short Ribs and Habanero and Mango–Glazed Chicken Wings. Bring this book out to your smoker, and enjoy the journey.
Praise For The Four Fundamentals of Smoking: Pit Master Secrets to Making Incredible BBQ at Home…
"Finally! Chris Sussman breaks down the four fundamentals of great barbecue in a book equally remarkable for its clear prose and for its mouthwatering photos and recipes. A must-read for beginners and a valuable refresher for pros."
—STEVEN RAICHLEN, award-winning author and TV host of Project Smoke

"Bravo! This book is a winner. Folks who are getting started will get a whole lot of rarely mentioned knowledge. Chris breaks it down in a way that we can all understand. Even old hats like myself will enjoy some of the modern and innovative techniques as well as the creative recipes."
—RAY LAMPE, Dr. BBQ, Barbecue Hall of Fame Inductee 2014

"Chris makes it easy to become a better outdoor cook. The Four Fundamentals of Smoking will be a good addition to any outdoor cooking enthusiast's library."
—TUFFY STONE, 6-time BBQ World Champion, Barbecue Hall of Fame Inductee 2018 and TV personality

"Great BBQ requires equal parts art and science, and Chris is the perfect mix of mad scientist and flavor innovator. This is the BBQ book we all need."
—MARK ANDERSON, co-host of The Grill Dads

"Bill's new ground-breaking hot and fast techniques on the Weber are pure barbecue genius. A true pitmaster is always learning new tricks and Bill shares it all in this must-have cookbook."
—CHRIS HART, cookbook author and BBQ World Champion

"To say that Bill knows his way around a smoker would be an understatement. He is a world champion who shares his vast knowledge in a way that is easy to understand!"
—MIKE PETERS, The BBQ Pitchman, host of Great American Cookout

"This book will not only save you hours of time, but also give you the knowledge and tools you need to create high-quality BBQ with exceptional layers of flavor."
—BOB TRUDNAK, The BBQ Pitchman, host of Great American Cookout

"Leave it to Bill Gillespie to teach us how to make delicious BBQ in a fraction of the time. If you want your next backyard BBQ to be championship quality, following Bill's simple recipes will get you there hot and fast."
—AMY JUNGK, EVP of Corporate Strategy, Old World Spices and Seasonings, Inc.

"Chris knocks the ball out of the park by explaining the most important concepts with distinct clarity. If you are trying to put the pieces together of cooking tender, flavorful food, start your journey with this gem of a book."
—CHRIS CAPELL, co-founder of Dizzy Pig Barbecue Company, 15-time KCBS grand champion

"I'm proud to see where Chris has taken his passion for outdoor cooking. That passion and his love of teaching others really come through in this beautiful book!"
—MATT PITTMAN, owner of Meat Church BBQ

"There's a saying that knowledge is knowing that a tomato is technically a fruit, but wisdom is knowing not to use a tomato in a fruit salad. There is a lot of knowledge about BBQ out there these days, but Chris shares BBQ wisdom with just the right balance of science, stories, technique and recipes."
—CHRIS GROVE, founder of Nibble Me This, author of The Kamado Smoker and Grill Cookbook

"Chris is my first stop when I want to tap into my BBQ intuition. His teaching style brings me back to basics and a way of cooking over the coals that appeals to the senses. He practices what he preaches with approachable recipes backed by personal encouragement. The BBQ Buddha makes everybody feel like they have a BBQ guru inside, just waiting to be coaxed out by hot coals and sizzling meat."
—SUSIE BULLOCH, founder of Hey Grill Hey

"My bookshelf is packed with titles by famous pit masters, but Chris does a beautiful job explaining the basics of smoking. He shows off his well-rounded culinary chops with a great collection of recipes. Highly recommended for folks new to the BBQ world and for anyone looking for delicious new ideas."
—DAVE YASUDA, Director of Marketing, Snake River Farms

"Chris's tips on meat selection, science-geeky chapter on pit humidity, comprehensive lesson on brisket cooking and clear step-by-step recipes with gorgeous photos make me hanker for more days at the home barbecue pit."
—WES BERRY, author of The Kentucky Barbecue Book

"Along the BBQ journey you are destined to meet some great people; Chris is one of those guys I have met and feel fortunate to know. Chris has done an outstanding job making BBQ techniques approachable so you can easily replicate them in your backyard. If you're looking for the perfect guide to help you along the path to BBQ greatness, I highly recommend this book."
—JASON MORSE, chef and founder of 5280 Culinary + BBQ Provisions
Page Street Publishing, 9781645672418, 152pp.
Publication Date: April 6, 2021
About the Author
Chris Sussman, a.k.a. The BBQ Buddha, has cooked on award-winning BBQ competition teams such as EGGcellent Eats and Dizzy Pig, and is a member of the Big Green Egg Pro Team. He teaches BBQ and grilling classes and shares easy BBQ recipes through his website TheBBQBuddha.com. Chris has also been featured in online publications such as HuffPost, Thrillist and Maxim. He lives in Louisville, Kentucky.
or
Not Currently Available for Direct Purchase