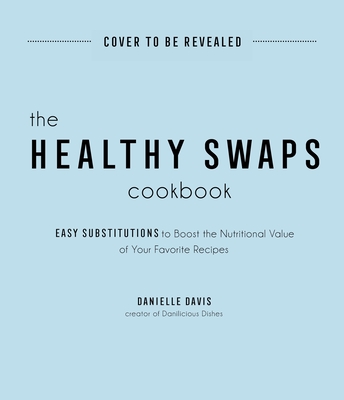 The Healthy Swaps Cookbook
Easy Substitutions to Boost the Nutritional Value of Your Favorite Recipes
Paperback

* Individual store prices may vary.
Description
Simple Switches to make Popular Dishes Better for You

Boost your favorite meals by swapping in ingredients that are bursting with vitamins, minerals and other vital nutrients—without compromising on flavor!

Learn how to pick leaner proteins to make delicious, wholesome meals like Thai Turkey Meatballs, Jamaican Jerk Grilled Chicken Wraps and Slow-Cooker Tacos al Pastor. Ditch nutrient-void white flour in favor of nutrient-rich—and tasty!—alternatives like almond and coconut flour and use them to make recipes such as Almond Flour Chicken Tenders and Healthy Lemon Bars. And use healthier fats like coconut oil and Greek yogurt instead of butter, cream or mayonnaise in Greek Yogurt Beef Stroganoff, Buffalo Chicken Pasta Bake and Healthier New York–Style Cheesecake with Macerated Strawberries.

Whether you're looking to cut back on refined sugar, find more wholesome carb options or generally improve the nutritional value of your favorite meals, this incredible collection is your go-to source for whole-food recipes that don't skimp on flavor.
Praise For The Healthy Swaps Cookbook: Easy Substitutions to Boost the Nutritional Value of Your Favorite Recipes…
"This book is a must-have if you're looking to eat healthier but don't want to give up any of your favorite foods. It'll be a staple in my kitchen!"
—CLAIRE CARY, creator of Eat with Clarity

"The Healthy Swaps Cookbook is just what you need to take your health goals into the kitchen and learn how to make wholesome recipes without sacrificing flavor."
—AYSEGUL SANFORD, creator of Foolproof Living

"With The Healthy Swaps Cookbook, Danielle has handed us the ability to convert our favorite foods into healthy favorite foods. This is the perfect cookbook for anyone trying to eat healthier without veering far from their favorite foods."
—DEE DINE, creator of Green Smoothie Gourmet and author of 4-Ingredient Smoothies + Juices

"Readers and home cooks are sure to find their new favorites among the incredible variety of delicious recipes this cookbook offers. There's nobody better to venture into the dreamy world of wholesome meals with than Danielle."
—JULIA TRIGO, creator of Delight Fuel

"Danielle's passion for food and healthy recipes truly come to life in this cookbook. Each healthy swap is carefully crafted and delivered in a mindful and delicious way. I can see this cookbook quickly becoming my weeknight go-to. Who doesn't love healthy food that tastes delicious?"
—SARAH THOMAS-DRAWBAUGH, recipe developer and owner of the Healthyish®

"My wife and I are new moms and are trying to be healthier with meal planning, and these healthy swaps are everything! My favorite is the Chicken Shawarma and Quinoa Bowls, already a family staple and now so much better for us!! You need this book in your kitchen!"
—NICOLE TRIEBE, Windy City Dinner Fairy
Page Street Publishing, 9781645672470, 168pp.
Publication Date: March 30, 2021
About the Author
Danielle Davis is the creator of the blog Danilicious Dishes. She has been featured in Thrive magazine, Marketplace magazine, feedfeed and TODAY Food. She lives in Bloomington, Illinois, with her family.